….this book.
Have you ever had a book you can't recover from?
That in its genesis there are slivers that dig deep under you and prickle every now and again with memory?
That the echoes of story reverberate around your soul indefinitely?
The Invisible Life of Addie LaRue does that to me.
V.E. Schwab calls it a book about "defiant joy and stubborn hope," but defining it by those terms is not enough. It doesn't explain the complexity of emotions I dealt with while experiencing the story.
DISCLAIMER: This is for the most part spoiler free, however, some emotional subjects that I mention cannot be avoided when reviewing.
This book is about Being Enough.
I went into the book blind, though I follow Schwab on media and knew this was a book she poured herself into. I've been a fan of hers for years and a highlight meeting her dressed as one of her characters, Lila Bard.
As I started to read, I began to brighten in amazement and dumbfounded astonishment. This was not a book that I could ever expect or predict. It jumped around with such precision that the story grows in power with each layer in time. The story reveals so much about mental help, self-worth, depression, feeling invisible and wanting to be heard, loving but never receiving love in return. This did so much for my inner person than I didn't know I needed. This book is water and oxygen, and is a perfect book for our time.
Story
Addie LaRue is a girl born in the 1700s France, a girl with seven freckles scattered on her face and someone who seeks for a life bigger than her small plot of land around her. On her wedding night, she makes a deal with 'the devil' to want more from life. He grants it to her with the curse of never being remembered. She wanders through life finding herself a stranger to everyone and a friend to no one, even if she repeatedly met the same person over and over – after growing a bond with them, they will never remember her. Three hundred years pass and Addie casually steals a book from the book store where we meet Henry Strauss, who works at the store and witnesses this girl steal a book, and he remembers her when she returns. The first person to remember her in 300 years.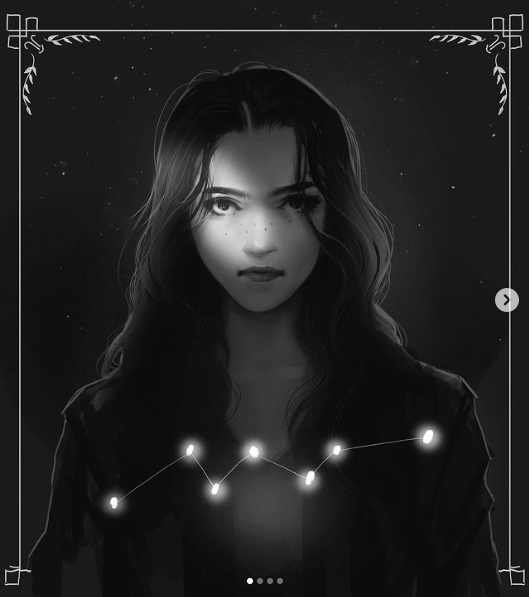 Fear of Being Forgotten
The unimaginable idea of never being remembered becomes very real, very quickly. And watching this human fear become reality is so eye-opening. Schwab paints a beautiful reality that shows Addie losing her family because they don't remember having a daughter. The loving, older mentor who raised Addie to believe in gods and darkness and a world without limits doesn't know who she is.
This idea of never being remembered haunts me. It's hard to articulate how I experienced Addie's sadness of every friend she made or person she encountered, quickly forgetting about her the moment they left the room.
Addie inspires a lot of pieces of art throughout time, though the artist don't remember their specific inspiration. In it is a song that becomes a huge hit. Addie helped write it, though she can never take any credit for it.
There is a vulnerability within us that begs to be acknowledged, remembered, liked, loved, and just thought about. A small wave from a crossing guard as I drive past, a quick thank you from a co-worker, a book review, a meme from my sister, just a small post-it note from my daughter – these little acknowledgements that I'm important to other people is so valuable. I am seen. I am important. Denying the character of Addie the smallest of those little acknowledgements was hard to witness, but in storybuilding, the lows are an important cornerstone, and the moment someone does remember her, the world changes.
The Power of Relationships
Both Addie's and Henry's characters uncovered holes inside me.
Addie finds in Henry a reliable love that is constant. Henry finds in Addie his personal worth, finding love in the stable parts and the dark parts of a person. When I think of my own search for love and acceptance, I've never been able to discover a person that fills in all these holes. I have a stable relationship, but there are places within each other that we do not venture. My creativity can be explosive and overwhelming, and being with a person who doesn't understand the festering need to pour out my soul in words can be troublesome, and in many times, very lonely.
But without spoiling, this relationship reveals how much we need people to be involved in our lives. We have daily proof that our souls need connection. Their story that unfolds is a delicate, fulfilling love story that helps people believe there is someone for everyone. Being enough for someone, fulfilling each other's ideas of what a person needs and wants, is foundational to our acceptance to be loved.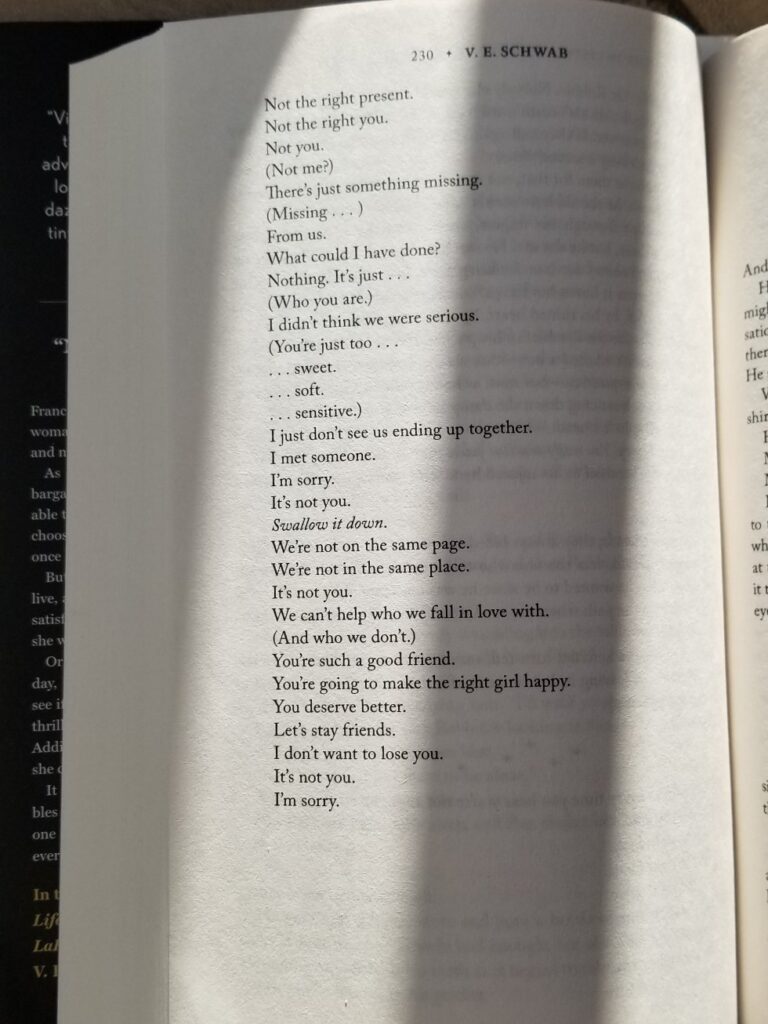 The Allure of Darkness
The other character that I haven't mentioned is the God Who Answers After Dark. Addie is warned continually about praying to the gods how answer after dark. But in her moment of desperation, she does just that, and Darkness appears to her as the man she conjured in her drawings, the man she has always dreamed about.
Throughout the book, Darkness revisits Addie and becomes a constant in her life, the only one that truly knows who she is. I grew to like the evil Darkness, or Luc as Addie has named him, and I looked forward to flashbacks where I hoped to see him through time.
But Darkness as a metaphor is very powerful. Not only is Darkness a dangerous character, but a dangerous idea. Separating it as an idea, Addie is constantly tested, tempted, and charmed or seduced by the darkness of things. As humans, we may be tempted or charmed in our own lives. I took this concept and began to comprehend the character of Darkness differently, and when I did I saw my own mistakes materialize, more real and dangerous. The darkness is comforting, can hide the insecurities. The Darkness speaks loudly to the quiet voices that needle us and spur us to think we are not enough, just as it did in Henry's dark moments. What a powerful thing a book can do with a simple concept of darkness.
Turning Me Inside Out
Around three-quarters through this book, I considered stopping reading it – and my reasoning was fear. This is not an adventure or wistful romance or fantasy with escapism. This book uncovers places inside a person that haven't been touched in a long time, the deep stuff you lock away. This book for me, turned me inside out and showed me a lot of the ugliness that I didn't want to deal with. But it wasn't the book's fault, that was just my experience. And it's not a bad thing either. This story hits places other books haven't touched. It surprised me. Books that surprise me are my deepest kind of book love. I appreciate the craft, the imagination, and ingenuity. I am yours forever.
I finished this book near the end of October and it has taking me a month to write about it, because I had to let words settle in me and stitch my broken pieces back. And as I hold this book now, it is with a personal reverence, an honor not many books in my collection hold. That tightness that made me hunch over afraid of what other people might think of me is now released. I feel taller having read this. I look at my own darkness differently. I feel renewed somehow and enamored with the strength it must have taken to write such a powerful, insightful tale. As I said at the beginning – this book is water and oxygen – simple, alive, and refreshing.
VE Schwab deserves the accolade for this piece of genius. It's a work of art that will travel through time, just like Addie.

Subscribe To Our Newsletter
Join our mailing list to receive the latest news and updates from our team.