Writing BIPOC (black, indigenous, people of color), diverse characters can be challenging. I love personality and infusing personality traits into my characters. Bringing in a diverse background is critical to building layers to your characters. However, so many people don't know what's appropriate.
Appropriation is understanding when is it okay to use race, nationality, gender identity, in your works? It's a tricky, complex area, but characters need identity. Many will not identify like you, so they should be different. How you address these issues in your writing is critical.
Years ago, I was part of a panel for Women and Diversity. I was perplexed on why I had been asked to be a part of the panel, other than my own struggles with sexism in the writing world. When I arrived on the panel, I was one of four women on the panel, all of us white, with only one identifying as LGBTQ. On this panel was also a powerhouse of a person named Mary Robinette Kowell. She immediately recognized the problem. She had a friend of hers on the phone within minutes to talk about the racial dynamics affecting black writers. A few minutes after the panel started, I decided I shouldn't be on the panel at all. I quickly became more of a participant, asking questions of what we could do to write better diverse characters. The most dominating answer I received was ask.
Appropriation sounds like a scary word, but it shouldn't feel that way. Having a person, who lives the experience you're writing about, read what you are trying to do with a character, is a powerful consideration.
In educating myself on BIPOC, both in my personal development in the Black Lives Matter movement and my character creation, I've picked up a few books to help:
These books have opened my heart to a different conversation, culture, and experiences.
I recently read Austin Channing Brown's I'm Still Here: Black Dignity in a World Made for Whiteness. I learned several things from this book, the most powerful thing though is that I can't understand the Black experience. Sympathy, empathy, niceness, colorblindness, does not give experience or perspective. This is all true. I also discovered that me ignoring race in my books is just as bad as me pointing it out.
So what do I do?
I never thought of myself as white privilege. I didn't see the privilege part, being poor and obscure. But with my Scandinavian heritage, I would never be one targeted by the color of my skin. That was a big revelation to me.
---
I took this to a friend of mine – Joann Thrower Moore (JT Moore), a writer that I've known for years. She is a fellow fantasy writer and a strong voice I respect. Her response to me was so gracious and genuine, and am so grateful I asked her these questions.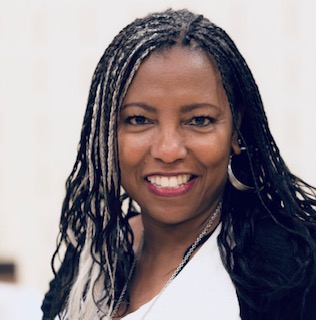 How do you feel is the most appropriate way to approach writing characters from diverse ethnic backgrounds?
The first thing I would say is to do your research. Think about why you're writing a character(s) of color into your story. They can bring extra nuance to a story or be there to normalize the presence of diverse characters in your world.
The experiences and reactions of BIPOC (Black, Indigenous, People of Color) characters walking into a store or interacting with the police will be so much different than a white character doing the same thing. Are they in a city where people are more diverse or a town where any diversity is one percent of the population? In a business meeting, are they the only POC represented, how do they feel about that? Admittedly some of this might be difficult to write without personal lived experience but research and sensitivity readers can help with that.
But before going out and writing that big book with a major POC character give some thought to if you are the right person to tell this story, see if a BIPOC has already written something similar that reflects their actual experience. If so use your platform to boost their signal because they may not have had the resources and contacts to get a wider audience. If you decide that this is your story to tell, do your research, go forth and write it.
Write diverse characters as humans, as living breathing people with all their strengths and weaknesses, intelligence, talents, and faults. Steer away from the tropes and clichés that perpetuate stereotypes.
Reflect the world that we inhabit. All stories, even fantasy, and sci-fi have a foundation in the world that we live in, so it continues to amaze me that so many books seldom feature a diverse cast of characters. This is really noticeable when the settings are places where characters of different races and cultures are the norm. BIPOC are in the past and present and we are not going to suddenly disappear from the future. If books can have white, blue, amphibian, and AI characters, why are there few to no black and brown characters in sci-fi and fantasy?
Read books written by people of diverse backgrounds. You will get a front-row seat as to how BIPOC see themselves in this world or an imagined one. Talk to people from different backgrounds. Just be sure to listen. It's going to be uncomfortable and if you go into the conversation with all the why's and but's or with the mental equivalent of 'all lives matter' you're not listening, you're judging and that's not what the conversation should be about.
Do you think there is enough sci-fi/fantasy characters from diverse backgrounds?
The simple answer is no.
If there were, this would not be a question. To this day I still find it hard to find a sci-fi/fantasy series by and about people who look like me or remind me of my varied family and friends. I used to search the stores for books for my son when he was young. His favorite cartoon was 'Static Shock' because the main character was someone who looked like him. So out of the hundreds of cartoons for kids that broadcast every day he only found one that he could identify with. Oh and when they introduced a black kid as the Red Ranger (Power Rangers), it made his year.
Finding books that featured positive portrayals of black children was not easy. It is getting better but getting BIPOC books published and promoted are still an order of magnitude harder than books written by white writers. When you cannot find diverse sci-fi/fantasy books for kids imagine how hard it is to find them for adults.
I don't think it's because the books are not being written. There are many groups devoted to supporting writers of color. But if diverse books are written and not published, then it will be difficult to impossible to get it into the hands of a potential audience.
What books have you been influenced by that have helped you in your writing? What books might you recommend for writers seeking to develop deeper characters with diverse backgrounds?
All of them. From comic books to romances to contemporary fiction, memoirs, sci-fi, and fantasy. Through the many genres, I learned what I liked and what I didn't, which stories moved me and made me feel. But the one big thing that really influenced me was the fact that I could rarely find books with people like me in them. Believe me, I looked. When my friend and I finally discovered romance books written by and about BIPOC we devoured them. So I would say every book I have ever read has influenced me in some way good or bad. Along that journey, I went from wow, stories are fantastic, to why are there no diverse people in these books, to, I should write stories featuring BIPOC having adventures.
My recommendation is to read in different genres, stories by and about BIPOC, fiction, and non-fiction. Once you learn about people of different backgrounds you can write those characters as the real people they are and undo the clichés and stereotypes perpetuated by current media. Search out own voices media, look for history that's been erased from public view. Request books by and about BIPOC because the more they are requested the more access we will have to a wider variety of books.
These are a few authors to read. Searching African American/Black, BIPOC authors will bring up a list of others.
N.K. Jemisin, Steven Barnes, Octavia Butler, Ta-Nehisi Coates, Ibram X Kendi, Beverly Jenkins.
Being a woman and African American, do you feel represented in fiction? If not, how do you feel writers should embrace that change?
When I think about the myriad ways women are and can be represented in fiction, African American women only check a few of those boxes. They are reduced to flat, one-dimensional characters if they are represented at all.
In a lot of media, African American women if they are portrayed at all are relegated to side characters and best friend roles. They are rarely the heroes of their own story and that needs to change.
How to help? Become an ally. Read and boost the writing of WOC (writers of color). Show honest portrayals in your own writing. Ask for books by WOC in stores and libraries.
We are here, have been here, and will be here. It should not be a major hurdle for people to accept that African American women have lives, loves and stories to tell.
---
Joann is a rock star and I can't thank her enough for her great definitions and empowering words. Writing diverse characters is important, understanding how to write diverse characters is more important. I didn't understand the power of just asking. Becoming an ally to those who understand these struggles enriches my own depth of humanity but also brings a richness to my characters that can be felt core deep. Search for true expression in your characters, elevate the signal, and help more voices be heard.
I want to thank Joann (JT Moore) and also the authors with the courage to talk about their experiences to help benefit the discussion that #blacklivesmatter. You can find more about JT Moore here.

Subscribe To Our Newsletter
Join our mailing list to receive the latest news and updates from our team.