Experiment #2 involves Salt Lake Comic Con, though I think this would apply with any convention. I tried to make this post as funny as possible, but sometimes, the truth is just not funny. What you will feel is the embarrassing reality of a small time author selling their soul for a reader to believe.
Salt Lake Comic Con is in its 5th year in the Beehive state. It's in my home town, practically my backyard, and for this home-grown nerdity that infects this valley like a petri dish, it's one of the best attended Cons in the nation. I'm still exhausted from experiencing the con for the 5th time, and each one has been different. In reflecting on past vs. present, I thought I would share tips on how to "con" the Con.
Con Virginity
Like all of our first times, there was a lot of excitement and anticipation, anxiety, sweating, embarrassment, and fear of performing poorly and being disappointing.
My first con had all the anticipation and inappropriate sweating to prepare me for every eventuality that came with subsequent Cons.
…and I did EVERYTHING WRONG.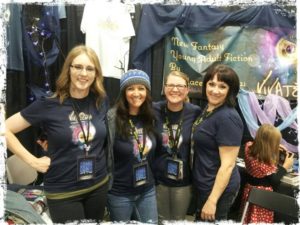 Money Pit
September 2013 – My first book, Vivatera, had been out for three months. The newness and hype had cooled, replaced with… okay, so now what? I mean, I had a book, wasn't that enough? Hardly. SLC had drummed up the idea of a comic con. It was seriously cool news. Why the Hell not?
My sister somehow talked me into seizing the day and I purchased a booth, a very hefty sum for a nobody author. I didn't have a discount of any sort, so the booth cost was completely out of my depth – over $700, a sum that I could NEVER recover with my first novel, and something I didn't realize until during the con. I only had this one book and no author friends whatsoever. How was I going to fill an entire 10 x 10 booth?
By spending a lot of money, of course. Here's a breakdown:
Shirts that did not sell – that I still have in my garage, if anyone wants one. They even glow in the dark.
Hours, and frankly, days making necklaces that reflected my series. This handcraftory took the possession of my kitchen table and a handful of Saturdays to get done. I still have several in a box in my garage, waiting for me to recover (4 years later) and finish. In the end I sold them for $5, and they did better than my book.
Cheap, colored scarves I could sell for $10, but they hardly moved.
Sheer fabric, for a wispy, mysterious effect.
Buttons that said "Vivatera" on them.
Temporary tattoos with the cool "Star" pattern. And I really loved these, but I gave them away.
Some business type cards that had a QR code for the ebook, for those ereaders. There are always a few. And I ordered WAY too many.
And a fat, expensive banner that said "VIVATERA" in bold letters. (Note: if doing an expensive banner, make sure it is timeless, as in, don't change your branding and don't plan on having more than one book. Mine aged very quickly and is now covered with paint in my garage.)
…and more things that I thought were necessary and weren't.
Are you seeing the $$? It was embarrassing how much I put into this booth to try and make my one book sell. The scale of this is ridiculous.
ADVICE:
Don't spend a ton of money on your first con. Get with some experienced authors (more later) and learn from them.
Don't attempt to sell t-shirts unless they are as cute and as universal as those Tee Turtle or Teefury shirts (not affiliated with either, I'm just a big fan of both). Don't kill yourself on unnecessary crap. A good, professional bookmark can do a whole lot for you, one with just enough information so they remember who you are and how to find you. Or just a good business card would work and are rather inexpensive. Spend money where you know it will be useful.
And please… Don't pretend to be bigger than you are. The one thing I hate more than anything is shameless self-promotion. The effrontery of it offends the art of creating. Simplicity is elegant and still professional. Remember what you love and what you do, and that carries over to those you are talking to at the con. Let the creation of it shine through.
Selling Your Soul
People seem to be impressed any time you say that you are an author. It's a big accomplishment to, first, finish writing a book, and second, seek to get it published, exposing your creative heart to rejection. I can't really tell if people are impressed or if they just think it's strange and don't know how to reply. "Oh, you're an author? That's cool…" slowly backs away… huddles children close and talks about college…
Writing is a solitary activity, for the most part. No one can get into your head and explain what you see. Sometimes when you share with non-creative types, it's hard for them to relate with why this story is so cool and why you need to believe in it.
It's hard to explain.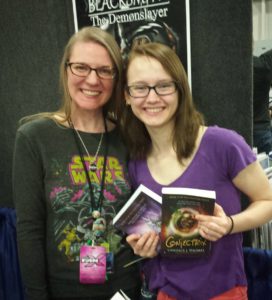 Many creative types are also very private, shy, introverted, and for us to be placed in a situation around thousands (tens of thousands) of people, forced from our cocooned life out into air, and made to talk not just about ourselves, but about our stories, can be hard. I can't claim to be introverted, I was once shy, but that didn't last long. However, when placed in an awkward situation, with strangers, asking about my book, I fumble with my words.
"It's about a girl who discovers she has magic."
That's every other book on the shelf. What makes my book special?
And authors don't know how to talk about our books. It's nerve-racking that someone wants to know about your words, your heart, your creative dragon that took over your life for six-months or longer. It's hard for us to come up with an elevator pitch. We know everything about the story. What part would interest them?
Some authors get so desperate if they haven't sold, people notice the panic. I call this "Killing the Puppy" and the reasons are obvious.
My secret to keeping my puppy alive, is not really a secret at all. I'm just nice and friendly. I KNOW! My big secret to success. I'm nice. People suck some times, but I think everyone has a decent side. That's my "glass half full" side. I learned at my first con that being nice was what I was most comfortable with, my best way to talk about my books.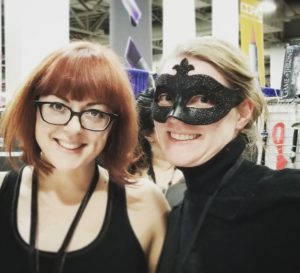 Comic Con is full of creative types. Many are introverts and don't know how to respond when a pretty girl talks to them, which I find adorable. (And which totally happened last con. This poor guy couldn't speak after he first asked me a question. I really did want to know about your story.) But a lot, and I mean, A LOT are there to show off their cosplay. And if I recognize something is cool, I tell them it's cool.
My other secret is sincerity. I truly do want to be nice and friendly. I DO like their cosplay. I recognize it and because I recognize it, they think I'm cool. A commonality. And because I'm cool, they want to know about me.
We really are the worst sales people. It's something that I didn't know came with the job as an author. Learning to sell your books is hard, but it's not impossible.
Be kind to your authors. It's not easy for us.
Partners In Crime
I mentioned getting together with other, experienced authors. I have done this a few times, each time differently. By the time I had a few cons down, I became the experienced author and started helping others out.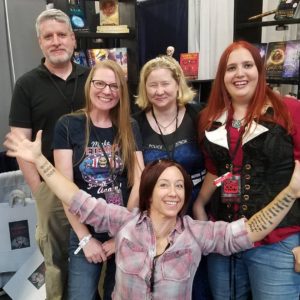 Finding a loyal crew to work with can be hard some times, there is a lot of talent and some times their stuff sells better than yours. It is also very rewarding. It's not as lonely when I share the ledge with others who understand my anxiety, my awkwardness, my trepidation, my fear of rejection. But the ledge is not as thick as I would like, and sometimes other authors need space. Sometimes, I don't sell by other authors, because I feel the competition in the same genre. I get jealous by other creative works. I get jealous of others' brains and ideas. It hurts, sometimes.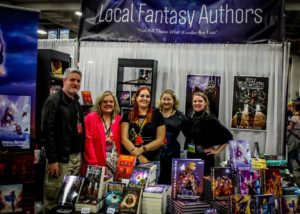 Because I am printed through a small press publisher, I can work with them on marketing, and sell my own books. Some bigger publishers require an author to be licensed with a bookstore or distributor in order to do signings. This limits who can be in the booth (sorry Michael 🙁 ). I have been in a booth with my publisher before and I have been with other indie authors as well. What I've learned from both experiences – work with those who believe in you just as much as you believe in them.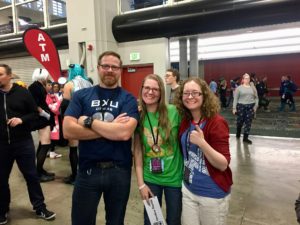 It's hard to know what the reader likes or what they would like to read. So, running a booth like a bookstore and having the reader's interest at heart, is the best (and most fun) way, in my opinion, to run a booth. I usually ask authors that have a similar readership to mine, but different enough to direct them to what the reader would like.
My biggest advocacy as an author – it's not all about you. These words might shock other authors. It should never be about you, it's about THEM. Not everyone is going to like my book. Fantasy is not everyone's cup-o-tea. Some people need the fairy tale, some need the horror and darker bits. And that is why I like community so much, and that is what I try to do within the booth. I've found that people are very receptive to this. It's the success of everyone that's really at heart. Separating feelings of jealousy is so important to have a successful con. It's hard, but I promise, it is worth it.
Pretending To Be Special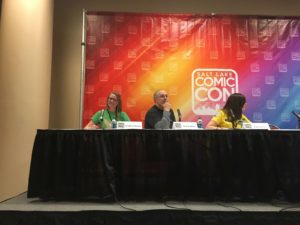 Being a "Special Guest" over the past few cons has been a very cool experience, but it was not lightly earned and never abused. Being marked "Special" means I get to enter through a different entrance than everyone else, and I get to stand in a long line, oogling other "Special Guests" and contemplating what makes them special. I eavesdrop a lot. These people know each other or know of each other, and talk about very nerdy things or complain about green room entrance. It's a rainbow of conversation. It's another show that I feel privileged to witness. 
What does it really mean to be called a "Special Guest?" I don't really know. I'm always too busy with my booth to enjoy it.
One year, my daughter cosplayed as Lapis Lazuli's "Bob" character from Steven Universe, and I told her she could not bring the aluminum bat from home, it's a weapon. She didn't listen, as is the usual. She brought it anyway, and of course, she was denied access. I came to the rescue. They saw I was a "Special Guest" and let me take in the bat, no questions asked. That was a really strange power to be granted.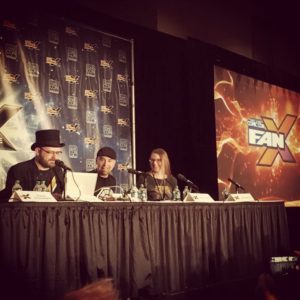 But I don't feel more special than usual. The reason why I keep being asked to be a special guest, is not because I am cool or know better than anyone else, they just like my creativity in the ideas I suggest, and they like ME. I fake knowing more than the audience, unless it's Sherlock, Futurama, or Blood Science. I try to be engaging and charming, and most of all, funny. It's me, amplified. But it all goes back to my books. I'm here! Get to know me! And go, read my books, please!
Truth is, being an author is special. It ROCKS! It's the best freaking job in the world, to make stuff up and get people to believe in it. But I gotta tell ya, it's a very interesting and different life than I thought it would be. It's more than just writing a book, it's branding yourself. Cons are not something that I thought would be such a big, important part of my author experience. But, being at a con gets me one-on-one time with the readers, and I feel like an author there. It gets me respect from big audiences and that connection can't be replaced. I never know who I will influence or who will be in my path.
Cons have brought me closer to other authors, bigger names than I. It jump-started me becoming an editor. Introduced me to influential people. It has given me a chance to talk with publishers, agents, people I just can't get to, but are present at these kind of things. It's a funny, interesting juxtaposition – the quiet, simplistic author being placed in spotlights. It's odd, but wonderful. And as much anxiety that it may cause, I find I need it. It rejuvenates me and ignites the creativity. It is part of me now, and I carry the beast.
I'm no longer Conning a Con.
If you are interested in any of my boothmates and their books, please click on my last blog: Salt Lake Comic Con 2017 – 1001 Author Tales!
Find them! Read them! Love them!

Subscribe To Our Newsletter
Join our mailing list to receive the latest news and updates from our team.