The first heard the word "ennui" in the movie, A Simple Twist of Fate, one of Steve Martin's more serious roles. However, I loved this movie and watched it often when I was younger. There is a moments when the girl he adopts is being rather destructive, and the simple line that martin delivers is, "Are you suffering from ennui?" I went looked up that word (in my dictionary, because google wasn't a thing), but I didn't know how to spell it. On-wee? Awn-wee? I figured it was being bored, but felt that it was more in depth than just being bored.
ennui: en·nui/änˈwē/ahn-wee French
a feeling of listlessness and dissatisfaction arising from a lack of occupation or excitement.
a feeling of being bored and mentally tired caused by having nothing interesting or exciting to do.
"the blahs"
Ennui is the all-encompassing word to describe what I am currently feeling.
In times of crisis, we get bursts of adreneline to help us stay focused and sustain us through those difficult times. But what if the difficult times continue? I'm not a Neurologist nor a Psychologist, so I have no scientific data for anything, but what I have been doing is understanding what I can control and how to embrace the changes happening around me. Here are a few ways I have battled ennui.
---
Quarantine Shirts
I love tees – the quirkier the better. I started a quick collection of funky, yet fairly stupid t-shirts that would spark happiness when I had the chance to wear them. When I found something that really spoke to me, I had to have it. I found many of my favorite tee shirts on the independent designer websites like Teepublic, Tee Turtle, TeeFury, and Red Balloon. I also enjoy supporting the indie spirit, so supporting designers through this time is a lot of fun.
---
Stupid Movie Classics
My two teenagers have been stuck in the house all the time was hard. I tried to break it up with some fun family time watching movies that made me. You know the ones, the era defining movies that you watched as a kid, the ones you would quote ALL THE TIME but your kids have never seen? Those are the movies I'm talking about.
Here is a list of movies we watched:
So, I Married An Axe Murderer
Joe Vs. the Volcano
The Last Starfighter
Mystery Date
Wayne's World
The Bourne Identity
Galaxy Quest
Buffy the Vampire Slayer (movie)
Better Off Dead
What's Up, Doc?
Just a few movies from my list.
---
Retro Gaming
Anyone who knows me, knows I'm a retrogamer. But things have grown a little tricky with the world of technology versus the old console gaming. 4K screens are so fast that if you try to use your old system on these, there is a huge lag time, meaning you have to KEEP a tube TV just for some of these old gaming systems.
Luckily, tech is thinking about this, making it easier for older systems to play on your new, slick screens. There are adapters or plug-ins now. But you can also find newer, more compatible systems. One thing that I did very early when the world started breaking was invest in a simple Sega Genesis Mini. We already owned a Nintendo Mini. These are the cutest little things. They are pre-loaded with games that satisfy your craving for nostalgic gaming, while educating the younger generation about 8 and 16 bit gaming. The newer systems have the save options, which is almost CHEATING when I think about the strategy in collecting a pile of continues by getting all the Chaos Emeralds so I could have them stored for the last Eggman fight.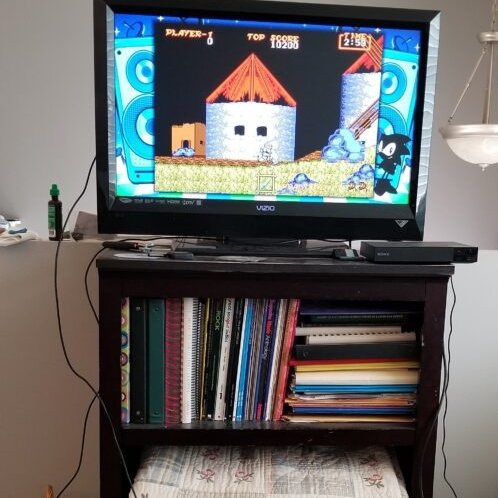 ---
Album August
I love music and have devoted my August to listening to an album every day. I asked friends and followers some suggestions and came up with a list, things that I haven't listened to to help my appreciation grow, but I also decided to revisit ones that again, helped define me.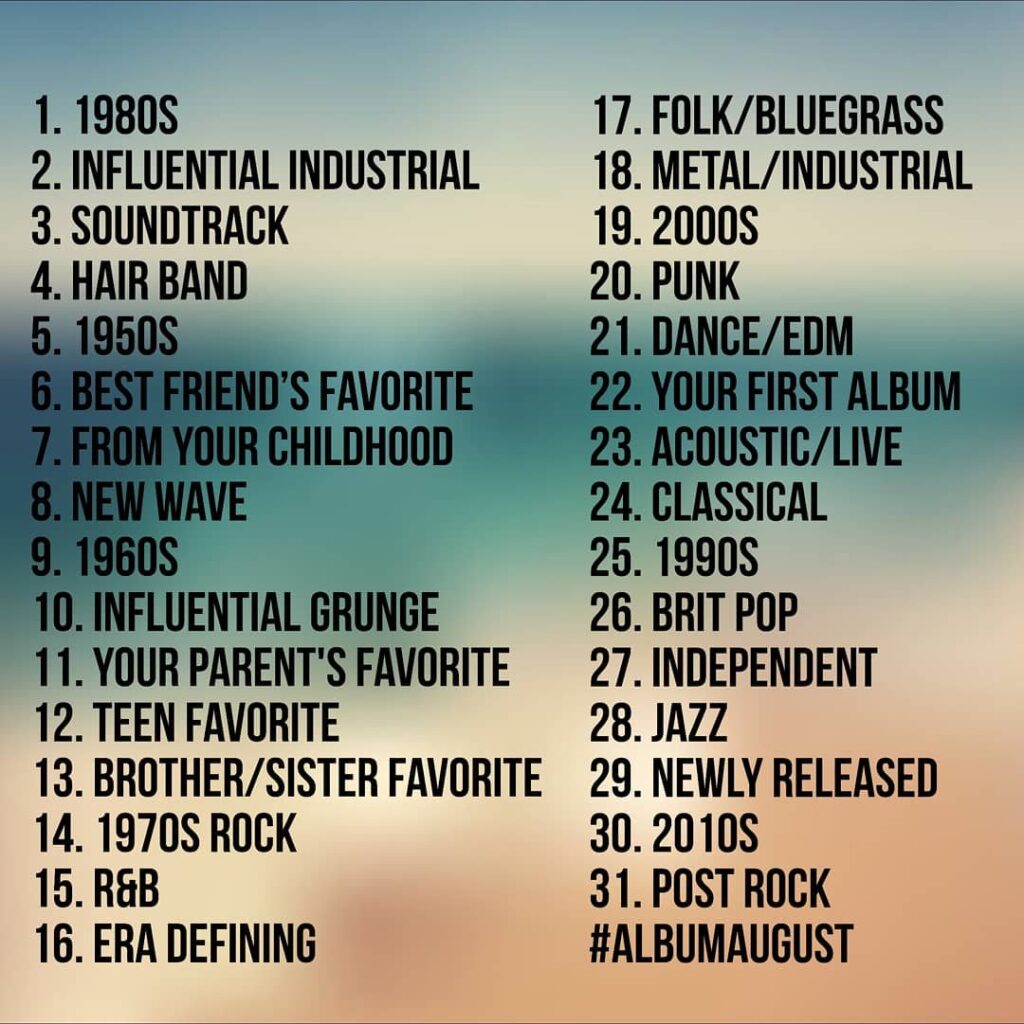 I'm half way through my list. Some of the most surprising is how much I like Miles Davis. This has opened a whole new chapter of music exploration for me. The other big surprise was the Flaming Lips. The only song I remembered when I was young was this stupid "Vaseline" song that would stick in your head and make you want to gouge your eardrums after a while. The album, "Yoshimi Battles The Pink Robots" was one of the BEST listens I've had in quite a while. Very impressed.
Getting down to the grassroots of what makes me – INXS – Kick, Madonna – Like A Virgin, Erasure – The Innocents, The Crow Soundtrack… were ALL so much fun to time travel back to. New stuff like Silversun Pick Ups  – Widow's Weeds and Jonsi – Exhale bring the soul of the person I am now.
Music is such a defining part of self for me. This has been a great journey so far and I can't wait to see the person I am when I have finished.
---
Ennui is hard – this whole situation is hard, but you aren't in it alone. What has helped me is getting back to some of those core parts that helped develop the core person you see now. Maybe this is something that you could do to help combat your ennui.

Subscribe To Our Newsletter
Join our mailing list to receive the latest news and updates from our team.