I met Jodi L. Milner years ago at who even remembers, but we've been thick as thieves ever since. We both have an individual inclination for mischief, so getting us together sometimes becomes a cavalcade of catastrophes, much like watching devious monkeys escape from the zoo.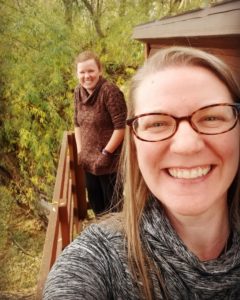 I first was introduced to Jodi's writing in a fantasy anthology THE TOLL OF ANOTHER BELL, published by my publisher. I guess, in a way, that was my introduction to her. She found me a Comic Con and we were quick friends. Jodi went to write several more short stories in other anthologies. Shorts are a great way to get your feet wet in the industry, giving an author some publishing credits for their querying resume. (Being honest, my literary voice is a bit too epic for short stories. I've only written a few. There is nothing wrong with starting this way, it's just not how I started.) I worried Jodi would box herself in to shorts only, though I knew there was a novel in her. She'd been talking about it forever. I was thrilled to hear when she signed with Immortal Works and started the novelist's journey in publication.
Jodi has been a joy to know and I celebrate with her as her first novel is set for worldwide release November 13th, 2018. Stonebearer's Betrayal is an epic fantasy geared to young adults or young at heart, 13 years and up.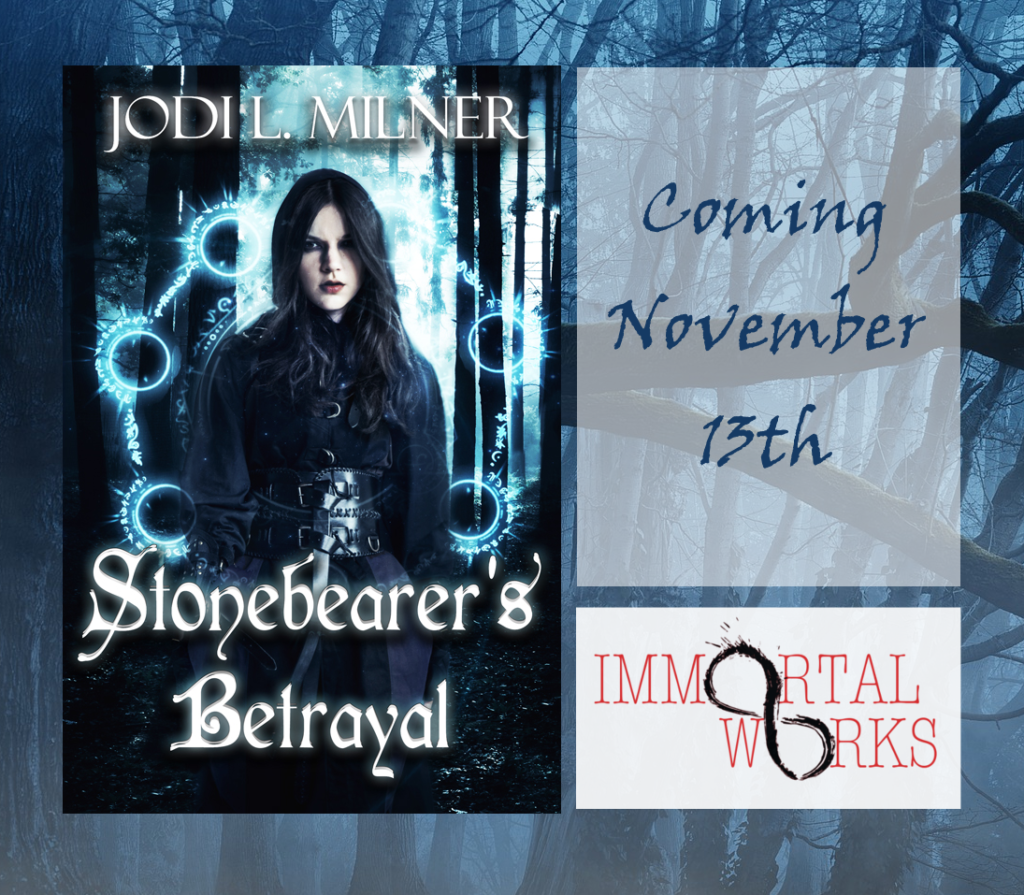 A secret society of immortals, tasked to protect the world.
A demon bent on revenge.
A girl brave enough to fight for her family when the two collide.
Archdemoness Wrothe stirs the ashes from a long dead war, rekindling a fire that threatens to burn the world. Only the legendary Stonebearers of the Khandashii have the power to stop her, if they catch wind of her plans in time. Katira didn't believe the legends. She didn't believe a person could alter the fabric of reality or live forever. She didn't believe in the dark mirror realm or in the dangerous creatures prowling there either.
That was before the first shadow hound came for her.
---
I'd like you to get to know a little about my friend Jodi and her work. I asked Jodi a few simple questions.
When did you first consider being an author?
While I always dabbled in writing, I didn't allow myself to dream of being an author until I hit the magical age of 30 and did a fierce reality check with my dreams and ambitions. I realized that if I wanted to do anything with my life, it was up to me to make it happen. I stopped waiting for the ideal time to start writing, sat down, and tried to write the book lurking in the back of my head. 
Who inspires you?
It would be so easy to rattle off the names of super famous authors, but it wouldn't be true. I'm most inspired by women authors who manage to raise their families, look put together, hold down a day job, and still find time to write their amazing books. If they can do it, so can I. Every one of the wonderful women in my writing tribe have given me the courage to reach for my own dreams. ("That made me a bit misty, Jodi.")
How did you get your inspiration for Stonebearer's Betrayal?
I wish the story came from an amazing dream that insisted on being written. It would have been so much easier! Stonebearer's Betrayal started with a series of scenes I found compelling and slowly grew into a story. Somehow all my favorite ideas and character traits from TV shows and books crept in there, so the book is in part wish fulfillment for a story I would have loved to read as a teenager. 
What makes you truly happy?
The best thing ever is sharing something that is dear to me and watching their eyes light up with excitement. In that moment it's like two realities collide and become one.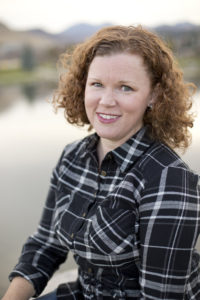 ---
Here is a Sneak Peak at Stonebearer's Betrayal:
Only sixteen days remained before Katira's coming of age ceremony, and she prayed for more time. She'd spent eighteen years of her childhood without giving the passing moments a single thought, and those moments were running out.
Katira shifted aside her well-worn quilt an inch at a time, trying not to make a sound as she readied herself to sneak out of bed. Elan promised to meet her outside the gate when the moon passed behind the highest peak across the valley.
The bed frame creaked as she sat up. She held her breath, not daring to move or lie back down. On the other side of the small room, the heavy slumber-laden breathing of Mamar and Papan continued unchanged.
Over the years, Elan had begged her to sneak out dozens of times. Each time he asked, Papan's warnings of dangers in the woods echoed through her head. Papan spoke of things out there that wanted to hurt her. Going with Elan not only went against her father's rules, it scared her.
Back then, there was always the promise of another chance.
Not anymore. Elan insisted that it would be unseemly for her to participate in that year's coming of age ceremony without ever having set foot in the woods. She needed to have this small adventure to proclaim her entry into adulthood. It was expected. All the other youths did it. Even clumsy Gonal, her father's smithy apprentice, had been rabbit hunting with his older brothers. Or so he said.
Then again, the other youth didn't have Papan as their father. They wouldn't be forced to carry water until their hands bled as a lesson in responsibility.
She pushed the rest of the blanket aside. Nothing could make her change her mind. Not now. Today marked her eighteenth birthday. She was an adult. If she wanted to leave the house and go to the woods, she could do so without permission. She would have to face her fears and there was no one better to do it with than Elan.
---
StoneBearer's Betrayal is available for Pre-Order on Amazon, or get a signed Copy from Jodi's Website.

Subscribe To Our Newsletter
Join our mailing list to receive the latest news and updates from our team.