Saturday September 22nd. A lovely new autumn day. On this day I felt pretty invincible. I love autumn. It is my favorite time of year. And I live in a climate where I get all four seasons on the day they promise them. So, I was feeling autumn, getting out my sweaters, wearing my boots, buying mellowcreme pumpkins, and picking apples off my tree. It was a lucky day too, I won two tickets for a concert coming up, and I thought I would Instagram my luck, something that is very fun and very me to do.
I'm a pretty big Instragram-er (check out what I mean here), just things that inspire me, fun things. For someone that needs to promote through media means, it optimizes everything for me. It links to my Facebook Author page and visa versa, plus to Twitter and Tumbler. Also, I call it "Visual Poetry" in the types of posts I make. Instagram has been my favorite of all the medias.
There are dangers in using any type of media, just as using any type of tool, but I'm a smart, capable person and have always used it with care. I do, on occasion (I say on occasion but this is nearly daily), get requests to be friends or to chat from men I do not know, like an easy tinder swipe. I heightened my security on my facebook private page to try and prevent this, but my author page and author profile are open and public. It's hard to know fans from creeps, so it's a gamble. I usually decline or delete any request I get from any guy I don't know. I'm not interested in making friends, just being an author and selling books. They really aren't my audience, so, the fact that this happened to cautious little me is a big warning to everyone. I feel rather stupid that I didn't see this one coming.
The Greatest Showman himself, Hugh Jackman, just happened to be in my hometown of Salt Lake City on Saturday as well. The annual doTerra conference was happening downtown and it was swarming with executives and consultants. Not only do I have friends who are a part of this organization, I also witnessed the swarm while at dinner the night previous. They are a professional, yet lively crowd. It was a big affair, and believing it to be their 10th anniversary, they truly were celebrating.
I do not follow many people on Instagram, specifically celebrities, and the only one I do follow is Mr. Hugh Jackman. I started following him while he was getting ready for the Greatest Showman, but I was interested in his philanthropy work in coffee. Reiterated: the ONLY celebrity I follow.
As a follower of Hugh Jackman's Instagram, I saw that he was, in fact, in my Salt Lake City. He was the special guest at the close of the doTerra conference. I watched a brief video a friend of mine posted, so I knew this to be true. It was beautiful to see the mountains I travel to every day on Mr. Jackman's feed. I was so grateful he came to my humble city, I commented just thanking him for coming to my town.
I was "Comment around 816." I didn't have a thought about this comment. There was no way Mr. Jackman would be reading all these comments. I thought, well, maybe if he sees it, he can feel just for a moment, how much it means for our dinky state to host him, even if only for a few hours.
A little while later I received a message from Instagram telling me that Hugh Jackman commented on my comment.
I COULD NOT BELIEVE IT!
I went through all the emotions that one would think. I mean, is it possible that he truly liked my comment? I looked at it more closely and still couldn't believe it. I took a screenshot for prosperity and sent it to a friend proving I'm awesome, and then decided to post it back on Instagram later after my nerves had calmed down. I tagged Mr. Jackman as well, hoping in some way he would like it and look at my profile and eventually buy my books, because that is a perfectly logical conclusion to come to when a high-class movie actor comments to you on his thread.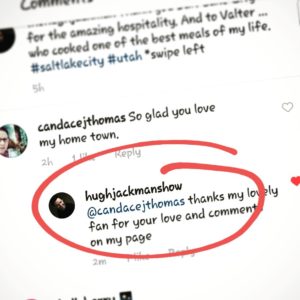 Something that stuck out to me… why me? I looked back at the thread. He hadn't hearted or replied to anyone else. The handle was a little different and not his usual handle, but it was so subtle that I didn't think of it at the time as anyone other than him.
Next day, I had a wonderful morning not doing much of anything besides working on my manuscript and drinking hot cocoa in my jammies. I received a message on my phone that said: thehughjackman_chat_ sent you a message.
I nearly choked. My brain came to a skidding halt. Wait…. what???
I previewed the message and it seemed rather genuine. Thank you for commenting, yadda yadda.
And then I did the boneheaded thing to do, without rationally thinking, I accepted the chat.
My reply was sincere and short, smart and well-written. (I've since reported the chat, so it has disappeared from my messages. I have no proof.) I thanked him for being genuine and putting his heart into his work. I mean, it was good. I used my best words, because this is Hugh Jackman, right? Or at least, maybe, his PA. He might read my books! If he even tweeted about one book, the sales would soar. I'd be set.
And that was it. I shouldn't expect anything else. I got dressed and went about my autumnal Sunday dreaming if Hugh would endorse my book and how great that would be. How he might like to turn it into a musical. If he was still in town, maybe I could invite him over for dinner, just the regular type daydreaming.
I received a reply.
So, this was where things start to become a little fishy. The grammar was sloppy, which bugs me even in messages, and I expect a lot more from a real-classy educated actor. I'm positive bad grammar would bug him too. This Hugh asked about what I did and if I was a fan of his work. I figured since he is messaging me, he would know I am. And asked what was my favorite of his movies, quote "most people say the wolverine."
So, wait… "the wolverine?" First thing, what movie is he referring to? Are you meaning "Wolverine" that came AFTER the first three X-Men movies, which as fun as it seemed, no one would say is their favorite Hugh Jackman show, not when you compare it with any of the X-Men shows. And if you were to pick an X-Men, it has to be X-Men: 2. Everyone knows that. But the other thing was -author instruction insert- KNOW YOUR AUDIENCE. If you are picking thirtysomething females to talk to, you better do your homework Fake Hugh Jackmans, because everyone on this planet knows that this demographic will pick The Greatest Showman.
This was when I decided to test the ground a little, but also I made some mistakes.
Still on a high, I told him I was an author, because I need to plug the author thing, and that everything he wished to know about me was on my website. I thought that was a safe answer, since that is author me, sorry everyone. But I'm directing Mr. Jackman to my website, so there he can buy my books. See where the fantasy took me?
I then threw out some pretty obscure movies like the PBS version of Oklahoma and The Fountain. Fake Hugh glazed over it by saying how wonderful it was to have a fan like me, and that I looked like a person with a kind heart, and how nice it felt to talk to a fan and be free to speak to true fans. Wordy, jumbled BS.
Kind heart, huh? Where did he get that from? And then, that's when he started to talk about secrets. That he liked to keep secrets, using the fancy word of "clandestine", and that I needed to keep our conversation totally and completely secret, even from my best friend, (which – too late, I had messaged earlier, so he already knew), because "us celebrities" can't have the media involved. My creep vibe shot through the roof. I knew I had been had.
I messaged him "And this is where things become too good to be true" and started for the exit.
He messaged back rather quickly, pleading me to trust him.
Uhhhh. . . No.
I was pretty firm in my response back, that not without a timestamp selfie would I believe that this was the REAL Hugh Jackman. I told him, provide that and I'll keep talking, if not, I politely asked (and yes, I was polite) to buy my books.
He did message back saying that he couldn't provide all his fans with a selfie. Ha! I again politely reported it to Instagram.
I felt like the stupidest person in the world. I had fallen for this simple, yet ingenious scam. I have always looked at myself as a very savvy media person, with the right protections and securities in place, so here I am feeling exposed, raw, naked, and frankly, plain old stupid. I should have seen this before it became a thing. There were so many red flags, and I even picked up on them. I should have picked up on it way sooner.
It's in my nature to genuinely believe that people are good. That makes me a very trusting person, even when I shouldn't be. I felt very used because of my gullible nature and sometimes unrestrained generosity, even though this person didn't really know that about me, they could read it in my language and words that I was a sucker with a bleeding heart. I don't think this Fake Hugh Jackman was after money though, I mean, what lonely girl wouldn't want sexy talk with a famous movie star? Well, probably a lot, but this Hugh approached the wrong girl – a writer with a bruise on her pride and some mighty keystrokes.
Not five minutes later, after I had reported the Fake Hugh Jackman, did I get another message from a different Hugh Jackman saying he wanted to talk and thank me for my nice comments. I died laughing, my ego healing a bit. It lightened my dreary mood – like Daffy Duck running in after Bugs had already delivered the punchline. Three! I had been 'catfished' by THREE different Fake Hugh Jackmans. Well, I must be the luckiest person in the world.
The REAL Hugh Jackman made a statement back in March about impersonators on his media accounts. (cited: www.hollywood.com) I didn't find this until after, of course, but the danger is very real and very out there.
Several actors and celebrities have made similar statements stating to be aware of fake accounts – don't give out any personal information, money, etc. I think we can all tell the Bright Blue Badge on their profiles, but it's not always present in messages. With the explosion of texting communication in all the different medias as a way of socializing, scam artists are becoming very slick about what they are doing. And darn it, I'm raising kids in this generation of media-level friendships. My advice, don't accept any request from people you don't know. And be so careful with who you are on media. Pictures are deceiving, and people are more bold in texts, so never say anything in words that you couldn't say to their face. Even I know the art of taking a good selfie, but that's not how I really am. I have to keep the real me for my family and the real friends who know my heart. That doesn't make the author me not genuine or honest or funny, just not for everyone. I'm sure, the REAL Hugh Jackman feels the same way.
I'm embarrassed about what I did and how thoughtless I was at the simple invitation of talking, but I wanted to share with you my experience so all of you can be wary, be warned about the dangers of fake celebrities and just messaging in general to strangers.
When things sound too good to be true, they usually are.
Disclaimer: I am not a selling or advocate of doTerra. They are listed for story form only.

Subscribe To Our Newsletter
Join our mailing list to receive the latest news and updates from our team.