FANGIRL by Rainbow Rowell hit dangerously close to my fanatica. I understood Cath's character TOO well, as many fangirls would. This was a lot of fun to read, an escape from my normal adrenaline fueled YA fantasy. I was surprised at at the real story – a heart-aching family drama, the first taste of college, a delicate romance, and the different threads that makes us who we are.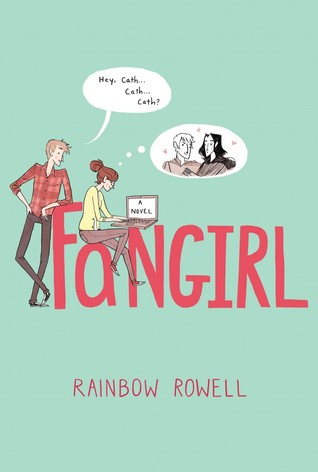 It was a fun read, a little young for me, but still fun. Cather is a writer of fan fiction, playing in a world of Simon Snow magical mage extraordinaire. I could feel the author Rainbow Rowell's fan love drip in nearly every mention of the orphan boy with magical gifts. This part was extremely enjoyable for me, a borderline spastic HP geekgirl. The voicing of both the book from "Gemma T. Lesley" and "Magicath" we different enough I could tell when I was reading the real books and Cather's fan fiction creation. I think that is tremendously tricky and commend the author for it. The excerpts from the books were fun and my inner nerd wanted these books to be real, a fun tidbit that helped the book move.
I gave it four stars, not because the writing a characters weren't awesome, just because it typically was not my kind of read and I don't have much to compare it to.
(For my conservative friends, there is language, but harmless in every other respect.)