Free Event for Book Lovers
SPRING INTO BOOKS MAY 28th, 2-6pm Viridian Center
In one glorious week I have the tremendous opportunity to do something I've waited ALL YEAR to do – Spring Into Books.
A little history – Spring Into Books started in 2014 as a small book fair by my local League of Utah Writers chapter, the Oquirrh Writers. The THEN president of the chapter, Lauri Schoenfeld, was a dynamo and pulled off a fun, family event. It was the seed of a very promising event.
I sat in the corner next to the classy fantasy writer Paul Genesse, fresh with my second book still drying from the press. At the time I wasn't much in the writing community, still pushing forward, excited and wide-eyed. It was lightly attended, because no one knew how to get the word out. And I was useless as a resource, with only being at this author gig a year.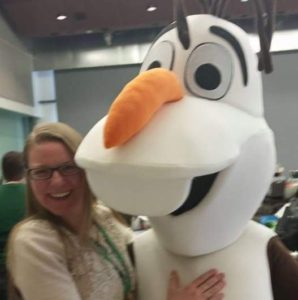 In 2015, there was a push to get more people there. The West Jordan Arts Council got involved, some local media covered it, and would you know it… cosplayers! The event was a buzzing windstorm of activity the whole time. The kids carnival kept the kiddos entertained, the author workshops treated the budding novice writers with fabulous instruction, and the book readings packed the lobby, filling the ears of readers of all ages. And seriously, I was chased down by a giant Olaf until I got a picture with him.
When asked to participate this year, I jumped at the chance. I also volunteered to help manage the poetry contest, something new this year. Three different LUW chapters have joined forces to make this great – Sandy Genre (Infinite Monkeys) Chapter, Herriman, and Oquirrh, spearheaded by Jodi Milner, and LUW Pres. Elect Jared Quan.
This year will be the best yet. All my favorite people will be there and I'm excited to share a table with my good friend and fellow Xchyler author Ben Ireland.
And if you come find me, I'll give you a free poster. Whoohoo!
Awesome stuff to do: 
Meet and greet award winning authors including: Lisa Mangum, Johnny Worthen, Brian C. Hailes, Michael Jensen, Tristi Pinkston, and Adam Sidwell.
Children's Superhero Carnival including games, prizes, and photo ops with your favorite characters!
Hands on workshops and presentations about the creative process
Book readings from local authors
Poetry Slam – watch as school teams go head to head in this lively competition
Food Trucks – Stay for dinner or grab a yummy snack!
Support local authors and artists at our huge book sale and signing
It's a really great event and promises to deliver. Here is the Oquirrh Chapters webpage with more information. See you there!
https://luwoc.com/spring-into-books-2016/

Subscribe To Our Newsletter
Join our mailing list to receive the latest news and updates from our team.