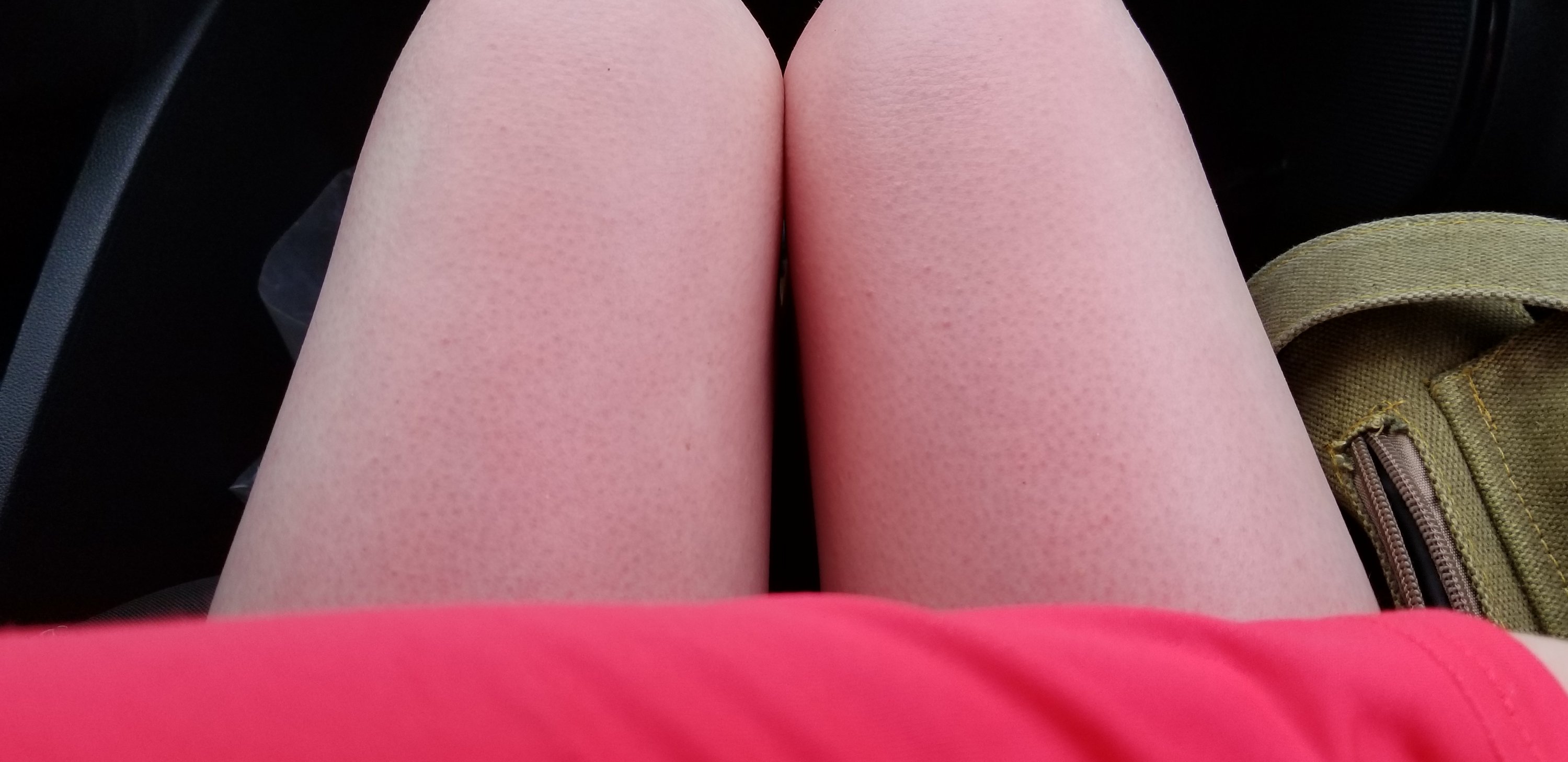 Impostor Syndrome can be defined as a collection of feelings of inadequacy that persist despite evident success. For many people I know this has to do with writing and success. I have felt it to a degree. It might be possible that all authors (excluding Stephen King, Jim Butcher, and Orson Scott Card) have felt it before. My impostor-ness comes from pretending to be someone I'm not.
I have Viking blood, if you didn't know. My heritage is very Scandinavian. Norse, Danish, Swedish, all the fairness and DNA markings of a people that don't see the sun very often. My mother has the English and Welsh to balance some things, but if anyone knows me, they can attest that I look much like my Scandinavian-heritaged, honey-blonde father.
I'm not stating that I'm not human, but truly, that I am more human than I wish to be. Being an author is a weird gig. At first, before I was published, the world was huge and dreams were big, and anything seemed possible. Being published was the ultimate goal, and when I signed that contract, I mean – I remember the moment I did it and where I was and EVERYTHING, I knew it would change my life and I was ready for it.
…or at least I felt as ready as I could be at the moment. The words we write are very personal in nature. Even when describing a mountainous scene with a dreamsicle sunset, the words can become very intimate and personal to how you feel about it. To become an author you expose those words publicly for others to judge either privately or publicly, or even VERY publicly if they strongly dislike it. Craft wordplay is art in a very pure form. So people will love what you do, but others (more than you wish) will not like what you do. And this is when doubt seeps in.
So, nice rambling Candie, but what does that have to do with your Viking blood?

Good question, You.
I often call my skin "transparent" since it is so white it's pink. I don't tan. I don't freckle either. I pink and then fade back to transparent. Those who have this kind of skin totally know what I'm talking about. I have several friends with natural melanin and I find myself often envious that they don't know what a sunburn feels like.
For some reason buried deep within my psyche, I have hated being fair and taught myself that beauty is tan and dark and exotic. I don't know if it was Mattel and the Malibu Barbie tan that reinforced this or my own fear of the sun.
I've always been attracted to darker skin. I married a darker-skinned, honey tanned man. I've found many times mesmerized by the bravery of a browned bikini body without tan lines, so much so that I don't like going swimming, fearing the burn and being made fun of or stared at because of my fairness. I have fought with my fair skin my whole life and I have lost.
So when I say I don't feel comfortable in my own skin, I mean that literally.
Last year I planned to take a trip to Portugal and Spain. I decided to go tanning before I left. I hadn't been tanning before. I had no idea what to do. The girl at the counter advised me that I shouldn't stay in for more that five minutes because of how fair I was. I went in, stripped, put these bug-like things in my eyes and had no idea the direction I should lay. I couldn't figure out the dial, but was too embarrassed to ask for help because of my lack of clothing. Once I adjusted things and lay there under strange heat, I found out that I was, indeed, laying the wrong way, but was locked in until the 4 minutes was over.
I expected to get some color, but was informed that that was just the first one and it wouldn't do much. This was after my humiliating experience. I still thought that it might be enough to help prevent me from a really bad burn. I was very, very wrong.
DISCLAIMER: THOSE WITH A SENSITIVITY TO PAIN AND HURT AND BURNS OF ANY KIND SHOULD NOT LOOK AT THIS NEXT PICTURE.
On day four of a two-week trip, we went to Lagos in the southern part of Portugal. I had already received a sunburn on my neck and arms, but nothing I couldn't handle. I put on the sunscreen that I had, which was from Portugal and not for white non-melanin skin. They all had bronzers in them, if that makes sense. PLUS, everything was in Portuguese, so I had no idea what was really in it to begin with.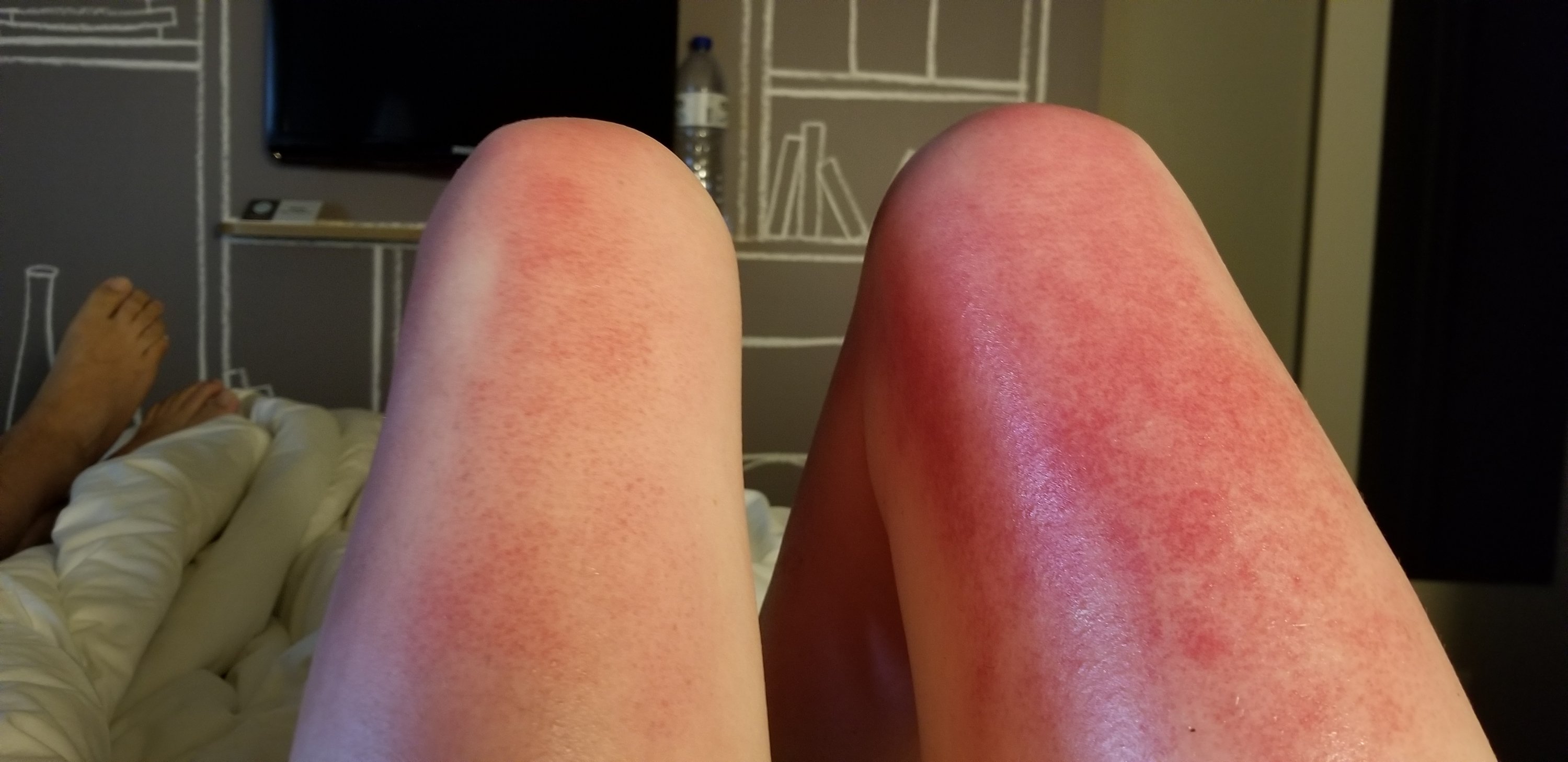 On the beach day, I put on sunscreen. I DID! I was not prepared for the reflection of the water, nor the expiration time of the water resistance. And even though we only were there a few hours, because I could feel we needed to leave and I needed to find some aloe vera, I still got severely burned. A petite Portuguese baker in the grocery store couldn't believe the state of my legs and quickly rambled out in her beautiful language what I should do and what I needed. And I bless her every time I think about my burn, even though I couldn't understand a word she was saying to me. There was a lot of pointing and startled looks.
This is at least second degree. I got a sun rash, sun sickness, and had to constantly be on ibuprofen the rest of the trip. I couldn't wear anything on my legs, yet couldn't have the sun touch it. I had to constantly put aloe vera on it, even though it was so hard to find aloe vera there. We finally found some in Gibraltar because it's owned by the pasty Brits who understand sunburns. I grew water blisters under my skin and after a while, my skin started sluffing off. THAT'S RIGHT! No tanning bed would have prepared my skin for this anyway.
So, why are you pointing this out??

I'm getting to it.
I can't fake tan. I can't real tan. I can't prevent the sun from wanting to kill me anytime we come in contact. So why do I do it?
Because I love the sun.
I love the sun so much. I love feeling the warm glow of morning, the way it colors the sky and wakes up everything. I love letting it heat up my dark shirts. I love the energy the sun feeds me. Seeing the sun makes me happy. I love sunflowers and I love so much the color yellow. After a long day of being in a basement with no windows, the sun greets me, reminding me that it's okay, everything is fine – I'm here in a steady state, reliable and constant.
In Everstar, the capstone in my trilogy, the sun plays a huge part. The Atmos stone was the first to be stolen, causing chaotic storms over the capital city of Southwick and casting shadows over the world of Parbraven. The little bit of sun that shines on my heroes supplies hope when they feel everything is lost. It's incredibly powerful.
Writing (more authoring for me) is much like the sun. It is hope and happiness and incredible warmth, and sometimes tries to kill me. I can prepare with all the sunscreen I want when sending out a book into the world, but it still doesn't work 100% of the time.
I recently had my first book up on the review site Netgalley and was surprised by how many people didn't get it. It gave me a real taste of what the world was saying about my work. Regardless of the accolades Vivatera had received (Novel of the Year being one of them), I started to feel like I disappointed my readers.
And then the doubt starts . . . and those voices are very hard to silence.
A few weeks ago was Salt Lake's FanX, and I had prepared to do amazing again this year, but sadly, no one was buying. And it was hard to not feel like a failure in those moments, even the ones that you can't control.
So as much as I hate my skin and sometimes doubt my talent, I have to remember that I have Viking blood. In some ancestral website, it has my line going all the way back to Odin. Strength is IN my blood – LITERALLY! But we all have the strength to follow dreams. Grabbing onto those wispy little dreams isn't easy, holding onto them is harder. I have friends that have completely given up on being an author because they got burned to a crisp by the sun of doubt. And I feel so bad for them; to give up on the dream they had and feel the sting of failure on their skin hurts my soul. I ache just thinking about it.
Even though I get burned every once in a while, I have to think of it as a good burn, reminding me how human I am, and also how lucky I am to live my dream. I am not an impostor but a believer – ready to defend my talents and the people who stand with me.
And underneath the skin is the heartbeat of it all, the loyal fans that find me at every con, that search me out at signings, that are impressed by the content I'm still creating, and are glad I haven't given up. Impostor Syndrome happens, but when the cheerleaders surround you, it's hard to hear the voices of doubt.
So to everyone PLEASE DON'T FORGET SUNSCREEN!
And if you have a dream, chase it. Believe in it. Seek out your blood and find the strength in it. Don't regret not trying. You were created to do amazing things regardless of what the voices of doubt say.
Fight on, little Viking Queen.

Subscribe To Our Newsletter
Join our mailing list to receive the latest news and updates from our team.