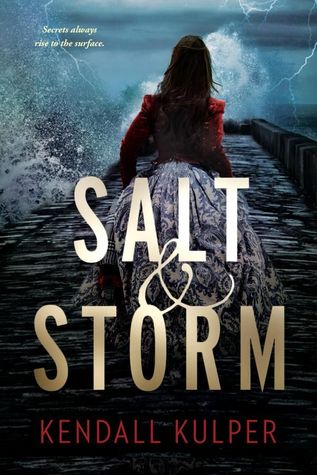 So, I'm kinda heartsick right now. I feel alive with magic, yet pained by it, just as the author says.
Salt and Storm is elegantly written, with woven imagery in every memory and trinket, every thrum and tremor. I felt the salt spray, the sand in my toes, the wicked wind whip around me. I felt it all, and yes, I too wanted to be the witch of Prince Island. I was very impressed with how fresh this book was to read. Set in later 1800s I expected the language to be thick like Elizabeth Gaskell, but it was young and spirited and easy to get lost in.
I found that this tale was not so much about young love and heartache, but the relationship we have mother to daughter and the legacy we leave for those who will follow us. The whales spoke to me as well, and I listened to their song, and thought for sure the whale would mend Avery, and I still hope it can. This book is good for bother mothers and daughters, telling possibly, a different story depending on where you are in life. Me having young girls can see with hindsight the disconnected relationship between Avery and her mother, but young teenage girls might pull toward the spirited freedom Avery sought.
The love story, as simple as Kulper wrote it, had entwined a mystery that left me aching to know more. That is the only reason I could not give this 5 stars – I believed too much in the magic, both whale magic and island tattoos, and thought magic would resolve my heart and heal it. But a good book makes me feel and ache when it is finished. I wished I could see more or understand more about Tane's magic, the island he left and the images draw in his sketchbook.
A beautifully written story with a simple, elegant delivery. Very clean, laced with important messages any girl could relate to.

Subscribe To Our Newsletter
Join our mailing list to receive the latest news and updates from our team.