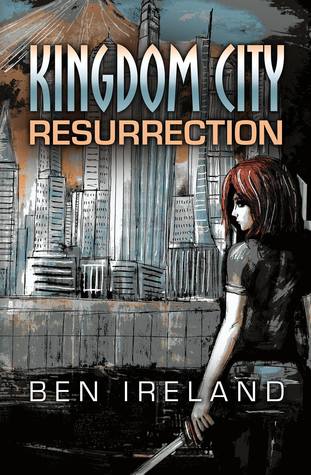 Back in February, I had the privilege of eating waffles and frites with Ben Ireland at the LTUE Writers Symposium. As a friend, I wanted to know more about his writing style and complicated mind. We share space in the Fantasy Anthology MOMENTS IN MILLENNIA, but his gentle story FAIRYKIN did not prepare me for the action-packed adrenaline high I would receive with KINGDOM CITY: RESURRECTION.
This book is a lot of fun! It read like anime, like I was reading Miyazaki or binge-watching Full Metal Alchemist – so visual in description I could see it when I closed my eyes. It's Urban, Dystopian, Super-Hero Action, Horror, Zombie lit – all packed into one series. But at its core, it is tender – about love and trust amid a world in chaos.
A terrorist attack buries most of the police force, including the Chief of Police, killing them all – six months later they all return with no memory of what happened. Now the mystery of what happens begins to be reveals in intense layered action.
Awesome. And the sequence of events after kept me awake at night, effecting my dreams, until I got up and finished the book.
Characters rule RESURRECTION. Plenty of rich, complex characters, sub-cultured within their surrounding mountain city, where no one leaves or questions, just co-exist.
I love that the main character is a bad-ass chick, Autumn Stevens, Kingdom City's Whisper, which makes her the toughest ninja assassin on the planet – total Linda Hamilton type from Terminator 2. I'm all in for tough women leads. Her hollowness at the beginning grasps me with both hands. I was immediately drawn to her. She only bugged me when she was too motherly. Me, "Stop worrying about their veggies and go kill some bad guys." But, how can she help it? She's there to protect her family in every way – EVERY WAY.
Really enjoyed the pace. It's sliced into scenes, revealing like a graphic novel, so the reader gets more of the plot than the players. I love reads like this. When the story wound back to the planning in the gymnasium, I thought of screaming at the characters, blowing the whole plot… "Listen, guys, stop talking about it. The city is in riots. There are hostages. Stop being so smart and go ninja kick them in the face!"
The tone and emotion is vital to the story. Through out there is a crafted balance of emotion is every scene, playing delicately with the environment, so to not overwhelm the reader, which is not easy for a writer to do.
RESURRECTION is really fun. If you like high-intensity thrillers, this won't disappoint you.
And I want to thank Ben for introducing me to his intense style of writing, helping me understand a little more of how he thinks. And a gentle reminder that he still owes me that Hot Cocoa.

Subscribe To Our Newsletter
Join our mailing list to receive the latest news and updates from our team.