ser·en·dip·i·ty
serənˈdipədē/
noun
the occurrence and development of events by chance in a happy or beneficial way.
I think out of all the words that I have ever encountered (that being a LOT) Serendipity is a special word that I have always admired. I remember reading the little Serendipity picture books like Morgan and Me, Bangalee, and The Muffin Muncher (all my favorites as a kid), so I grew a subconscious association with the word that, to me, embodied magic and imagination.
In this quick definition, it doesn't express the feeling of Serendipity. Many times a person doesn't know that a moment is serendipitous, only on reflection can it be seen. This is very true in my personal experience with this strange cosmic event called "Serendipity." Though, as it was happening, there was a certain feeling pulling me along, alerting me of how special this was. I wouldn't call it fate or kismet, that makes it imply that I didn't have a choice. But in this case, I clearly did have a choice, and this is how my choice led me here…
The Occurance
February 2016 – LTUE: Life, The Universe, and Everything Writers Conference, one of the best Sci-fi/Fantasy writing conferences there is. I was very involved this year, being on ten panels and subbing on two. It kept me very busy.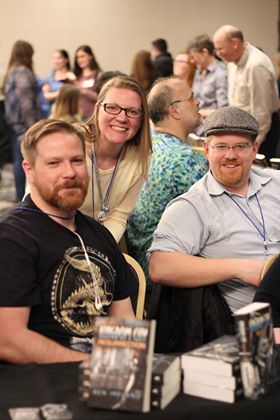 Ben Ireland, fellow Xchyler author and Moments In Millennia contributor, had just moved to Utah. He had contacted me back in December about getting more involved in events here. I was the right person to contact about that, I have my fingers in all sorts of pies. Truth: Xchyler is much like a family, so adding another member was very exciting, plus I felt a strange kind of kinship with him after working on MIM. And me, being very active in the writing community here, felt a specific need to befriend him, a need I did not understand at the time. I invited him to LTUE, and got him to take part of the large author signing event.
I had been very busy, as I said, and hadn't noticed him come in and set up at a table close by. I was rather struck by my great fortune being positioned directly across from Brandon Sanderson. It took me a good while to notice that he was sitting kitty-corner from my seat. I could only see the back of his head, but I knew it was him. I grew very nervous – people online can be very different in person, but I couldn't just sit there. I got up, casually went over, and tapped him on the back. He was excited to see me and glad I was there. We immediately hit it off and my friend Mike from the media team nabbed a picture.
My 12 year old daughter and I had a casual lunch with him the next day during the conference, where he asked her, nearly in passing, if she would be interested in reading a YA fantasy he had been developing. I was curious about it, but he didn't say much, just that he wanted her opinion. He sent it to me, and I in turn sent it to my girl.
Development of Events
My daughter is rather flaky. I love the guts out of her, but she starts things then gets distracted by squirrels. She read about 50 pages before she started doing something else. I was curious about the story, but I had so many other things to do, like finishing writing a few books, one being the final book in my series. I couldn't justify time in reading it. And at this point, Ben had not asked me to read it.
About a good seven weeks later, Ben and I met up yet again in the Xchyler Booth at FanX, a geek convention in Salt Lake City. He kept mentioning this YA story. And here I was, a YA fantasy author. I knew he was dying to talk about it. So, I simply asked him to tell me about Billy Blacksmith…
…and the flood opened and he shared with me so much. He was so excited to talk with another author who understood creation and world building. I mean, Ben completely lit up. I tried to catch everything as he filled my ears with this world of Billy Blacksmith, all while walking the wide convention floor eating overly priced chocolate ice cream.
This is what I caught:
Billy is a big kid, out of shape, lover of cupcakes, amazing at baseball
Has ultra cool friends, Greyson Ash and Ash-lea Gray, very cool
He has demonblood
But it wasn't until…
Giant demonic spiders and a little girl that this giant spider had to protect
…did I wonder how complex this story really was.
And then he killed it by saying that part was actually in the second book. But, after everything, and me as a YA fantasy author, he really wanted my opinion. Now, know I have a hard time reading books from my friends. I don't want my author friendships to become delicate if I don't like it, you know? But, there was something, I'd nearly call it a magic charm, calling me to read this story. I started reading and told myself that I would try and keep my personal friendship out, remove my writer self, and just enjoy the story.
I failed.
By chapter three I had a problem – I really liked the story. It surprised me. It was funny, funny, funny. The characters were super engaging, especially poor, larger-than-life Billy. But, my stupid author brain would not shut up. The story had great potential, but I could tell it was more complex than what Ben had original told me. A boy that swings a bat really well did not scratch the surface.
So, lucky as I am, I went to the author with questions. And there Ben blew my mind with a creative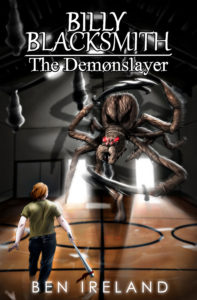 world constructed of three realms: Humans, Demons, and Angels, and the wars that befell them. About the different demonic races and classes, about a different kind of hero story, filling me with mystery and admiration, the kind that makes me wish I had created it. This manuscript screamed at me, and it wasn't even mine.
And then I read a chapter called, "The Demon Who Loved a Maid and Saved Mankind," and I feel in love with the story. It talked about the sweet beginnings and love story that started everything. I couldn't help myself. This was good – really good, but there were problems that I could see and Ben couldn't. Ben writes thrillers, not YA fantasy. YA sometimes needs a gentler hand, or something that appeals to that age. And YA is something I write and I knew I could help. This is what Ben wanted when he first talked to me, someone within the writing world to believe in Billy–and I, in some strange cosmic serendipitous way, was there.
In A Happy or Beneficial Way
At this point I warned Ben, "I can't shut off my writer brain, so if I see something that could be improved, can I add a comment?" He was so excited that I offered, he said "Yes, please." And thus, started a back and forth writing process that soon developed a trusting friendship and partnership as author and editor.
That's right… Editor. New hat, but I like how it fits.
Over the past months working on this, I've learn how important it is to have creative people. Though ideas may be different, artistic types, and especially writers, speak the same language of art. It was this language of writing, world building, and creative storytelling that spoke to me. Writers need writers to speak to, bounce off ideas, learn from, and share with. We all have loved ones who believe in us and in our abilities, but having other creative minds believe in it too is validation that you are doing something right, something worth while. The imaginative beauty of this project wrapped around me, and instead of simply encouraging the idea, I got involved, because I believed in it and desperately wanted it to succeed.
I love writing. I love storytelling. I love making a difference. I love being a small part of Billy Blacksmith.
Serendipity only works when you act on it.
Congratulations Ben!
---
Billy Blacksmith: The Demonslayer
Billy has spent his whole life keeping his head down in school and trying to survive the endless parade of foster homes. When a three hundred pound spider emerges from under his bed intent on drinking his blood, Billy discovers he is the main player in an ancient war between demons and humans. With his best friends Ash-lea and Greyson, and a reformed demon as his ally, Billy prepares to face an invasion of demonic spiders and the General that leads them.
Sign up HERE for a chance to win a signed copy of Billy Blacksmith:The Demonslayer

Subscribe To Our Newsletter
Join our mailing list to receive the latest news and updates from our team.