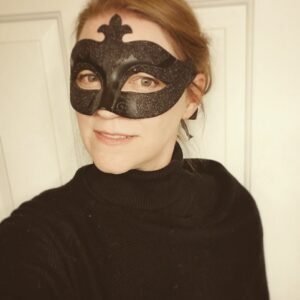 While I was in the spirit of the holidays, I sat down recently and decided to watch The Man Who Invented Christmas with my mother while she was visiting with me. Dan Stevens is irresistibly amazing in it, as you might expect if you follow him at all, but what you might find surprising, or at least I did, was the introspective glance it had in the mind of a writer.
In the movie, Charles Dickens struggles with finding his characters. As I watched the vision of Scrooge appear and start talking, Dickens asked his character questions to help define him more. And my mouth dropped to the floor and I nudged my mother, "This is so true." The constant interruptions while in a mid-stream of creativity; the name collecting; the environmental influences… all made sense to me.
Creating characters is a strange business, honestly. And writing is solitary, but it's not. It makes sense to us that we spend time with other people, even if they are the ones in our heads that are informing us about themselves and the adventure they want to take.
It Starts With A Name
In this movie, Dickens states it all starts with a name; once the character has a name, the character comes to him.
I recently was in a class on developing characters, and throughout the class a theme developed for me about emotional connection. There needs to be a reason to care. I think a lot of that starts with a name too. The right name can say so much about your book. Sometimes a character comes with a name and then demonstrates why they have that name.
In this class, I focused on a character named Browneyes. This is a character I created in my series, but felt she had more to say. She came with her name. It was a nickname that I gave my little girl. I loved her brown eyes. I thought it was cool and unusual. I was at the time also in Imagination Training my good friend and fellow writer Michael Jensen was developing (more to come). In this training, he asked me to invite a character to the safe space in my mind and ask questions. This was an amazing experience for my imagination to just play with. One of the questions I asked her was how she got her name. I was not prepared for this answer. I had always assumed it was a nickname, but not until that experience did I understand it. And when I understood why, her story started to come into place. It was Browneyes' name, or the name she was hiding behind, that told me her story.
I adore names and always have. I collect them much like Dickens did, or JK Rowling for that fact. The right name can set things in motion.
My character in the book Vampire-ish is named Oliver Brixby. What does that say to a reader? Bookishly nerdy? Unpopular? Insecure? A bit lost and hopeless? Springy? (I know, why is that?) I needed him to have the right name in order for the own story to come together. Both names were ones I had collected. Oliver was a name I had always liked but never used (since it didn't fit any of my girls).
Atticus Finch. Sirius Black. Bilbo Baggins. Sherlock Holmes. A name is a badge that says a lot about a character.
When I first was signed on with my first publisher, they asked me to change the name of a few of my characters. This was hard for me. The character Taren was originally called Ry. I changed it because it was too close to Reynolds. I understand the change but was not familiar with Taren as a character until the later books, because I hadn't written Taren before, I had written Ry. My perspective of his ideals changed as well. Ry to me was much more selfish and dark. Taren felt more accepting to change. If I would have kept him as Ry, would he have had the same story arch? I'll never know.
AND ONE MORE THING . . . In authoring, I am Candace – a princessy name that means "Glowing Queen." It's my birth name and I think it's pretty cool. I always have liked it. It's not crazy popular and it's sweet sounding. I like the way it's spelled, and when I meet another Candace, we are immediately in the exclusive Candace Club. I was never called Candace growing up. I went by Candy. Okay. Right? Candy gives you a very different idea of a person. Candy is a name no one takes seriously. This is a sweet, bubbly sounding name, someone that likes to have fun (maybe too much fun), a people person, a drag queen, a hairdresser with expressive eyes and stunning lashes and gorgeous nails. And I won't lie, the name Candy suits me in specific ways, but not in authoring. To my family and friends, PLEASE call me Candy, but as a professional, I can't use this name because of how it's represented.
I've always felt that naming someone is one of the most important things you do as an author. Sometimes it comes easy. I know when a great name crosses my path, a story almost immediately comes to my mind just in the name alone. Spend some time on the name you pick for your character and understand why they have that name, why they identify with it. Just like your name means something to you, give your characters the same chance to tell what it means to them.
Slam Books
There are so many guides, character sheets, books, websites, card games. . . on getting to know your character. But I don't think you really know your character until you put them in a situation where they need to act.
"It begins with a character, usually, and once he stands up on his feet and begins to move, all I can do is trot along behind him with a paper and pencil trying to keep up long enough to put down what he says and does."

– William Faulkner.
In middle school we had these things called Slam Books. Does anyone know what I'm talking about? A Slam Book was a regular ruled notebook where the person who owns it writes a question on the top of the page and then numbers it all the way down. Then they give it to a friend, the friend selects a number to be, and then answer the question on each page. I would most likely try and write the funniest answers, because at the time my job was to be the funniest person in the room – not the class clown, oh no, just the wittiest, funniest person in the room. (I kinda still try to do that. It was my way of getting over my insecurities.) I look at my GETTING TO KNOW YOU stage as what would they write in a Slam Book. (Post on Slam Books here.)
The characters in my novels feel like people I knew in high school, so it's only logical to me that they would write in my Slam Book (even though that's more of a junior high thing). I know them well enough, I never forget their names, we shared experiences. As I start to move through the story with them, I find that they become their own people and that I'm no longer seeking to create them, but more they are telling more about them. It's a nature friendship like any friendship.
I asked a few different author friends about how a character comes to them. A similar response came from them that they don't get a huge character talking and dictating how to write the story, like Scrooge did in the movie, but more getting to know them as they go.
Alyson Grauer, author of On the Isle of Sound and Wonder stated, "They aren't super vocal, but they have opinions. The form kind of is like feelings first or textures or colors… I always put myself in their shoes? I guess it comes from acting. But they start as like a feeling or a combination of feelings, and then once I figure out what they look like and how they move and how they talk and all that, then they can talk to me. But mostly, it's just they have opinions on things. They don't like have full conversations with me."
Ben Ireland, author of the Billy Blacksmith books stated this about characters, "It's more like sculpting. I know what i'm going to do, but the details reveal themselves as I work."
Jodi L. Milner, author of Stonebearer's Betrayal, said when I asked about character sheets, "I find more often than not, if I have to fill out a character worksheet, half the stuff I put on there doesn't feel right later. What helps me more than anything is to find two existing characters I love and mash them together to create something I can use. It really helps with the voice and mannerisms."
So many of us have our own way of getting to know our characters, but the best way I feel, is to be with them, spend time with them and see what they will do when put under pressure, when they have to make a decision, and why they would choose it.
Characters Have a Mind of Their Own
I remember having a conversation with a new mother. This was several years ago before I had kids of my own. She was complaining about how hard of a time she was having with her toddler and his behavior. I'll never forget her saying, "It's like he has a mind of his own." Really? Like they exist outside of your body? And have their own pulse and lungs and opinions? I still laugh at this statement.
Characters also exist without the writer. It has to. A writer's job is to send it out in the world to be shared. These characters need to become real in the mind of the reader. When creating characters they often become so real that I miss them when they aren't around.
When I was writing my first book Vivatera, the idea was only a stand-alone idea. But during the creative process, I found that I really liked my characters and wanted them to succeed. I became carried away with sending them on adventures, so much so that I turned it into a series, with continuing stories beyond the series, just because of how much I want to explore who they become. My second book, Conjectrix, had an overarching concept, but three separate stories. And all I did in this book was put them in a situation and see how they would react: let's put them in a den of dragons; or let's meet Katia's father; or look I put a bunch of mountain trolls right here . . . whatcha gonna do now? Every chapter was me exploring my characters and how they think and react and communicate with others. And I have to say, it's my favorite book I've written because I had the best time getting to know them.
I liked how Dickens was depicted as having conversations with his characters as real people. I remember reading Harry Potter and knowing these characters so well. I also remember having the briefest sadness that there wasn't an actual Hogwarts and I couldn't go see my friends there. I think this is a shared problem and why we now have two theme parks dedicated to him.
Characters should exist beyond the words we write. Just imagine all the shenanigans your characters do when they are not appearing in your book. As part of my writing exercises, I like to do journal entries as part of my research. I like thinking of stories that happen with my characters. And not that this research will show on the page, but it strengthens my voice in telling about them. It makes them more real understanding what they would do or what they have been through. I have had one thing come up in the third book in my series that I wrote in a journal entry for the first. I'm very glad I did that, because it became important later on when I needed that information.
Quirks and Cuteness
My daughter is an artist and is always drawing characters she wants to develop into stories; each one has a little bit of a background and a quirk, like hair sticking up or covering one eye. In drawing them, these characters become real people to her. She is definitely my daughter finding the adorable quirk in everything, but I feel very powerless when drawing characters I imagine.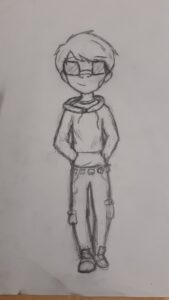 I highlight her art because of the quirk and cuteness of it. The best characters are ones that have a bit of flavor to them. Characters that look like oatmeal, will taste like oatmeal. Without some flavor, the audience will all have a bit of bland in their mouths.
Some of my favorites characters are those that are not perfect and that have a relatable quality to them. Within the first few pages of Percy Jackson, we already know that he's not a normal kid. He has ADHD, doesn't pay attention, isn't good in school – so relatable to Percy's audience. not just personality-wise, but physically and mentally too. Those details are important.
I have a friend named "Big Al." He's a voracious reader and a rather big guy, like the larger than life type, super jolly and wears his heart on his sleeve. He read my series and liked it, and asked for recommendations. At this time I had just finished editing the second in the Billy Blacksmith series. Billy is a big kid, uncomfortable in his own skin, bullied, but always trying to do the right thing. I told Big Al about it and he gave the first book a try. He LOVED it. He identified with the character of Billy, the trials, the struggles of being young and awkward, the WHOLE thing. He quickly grabbed the next one and hounded me before the third came out. Suddenly, this character wasn't just a character, but a friend, someone that he identified with. These kind of characters can be life-defining. I think a lot of readers search for these type of characters that through their quirks and imperfections, make them perfect for us to love.
I highlight Delilah Bard from A Darker Shade of Magic. V. E. Schwab really makes her characters likable, relatable, yet complicated. Delilah is not perfect. She is a thief and will always be a thief. She's dark and mysterious and only looks out for herself. I can't trust her, but that makes me like her more. She doesn't turn into someone unexpected; she doesn't suddenly grow a heart of gold like Darth Vader and throw the Emperor down a shaft in the Death Star. She is the love interest, but not lovable. She will not be the character that takes the bullet – that's Kell's job. Delilah stays true to herself the entire series.
And that is not easy. After building a friendship with these characters, one wants them to be in a Happily Ever After. But you know truth of your characters. Not all of them would choose that. Each should have likes and dislikes, but most of all, they should have personality. Make them quirky, imperfect, relatable. Those make up our favorite characters.
Letting Them Go
My job as an author is created believable characters and set them off on an adventure. My characters really do steer the boat. They live so deeply in my head that I know what they need to do when it's time to act. But once the adventure is over, the characters need to go out on a new, different adventure, one that isn't hooked to me and my mind, but one that is hooked to yours . They now need to tell their story to readers. Their journey is far from over, even after I type THE END.
If you find those characters that speak to you, much like my friend Big Al did, those character will stay with you forever. They are friends that you are always friends with. It feels like they go away, but you can always revisit them and share them with others. I love it when I share books with others. It's an introduction to a friend, and hopefully those whom I share it with become their friends too. This journey can be slow, but every encounter with a new fan is someone knew my characters just met. It's magical and transcending to get a review or message from a fan. My characters are doing their job, inviting these other people to a world and adventure I created for them. It's wonderful and surreal.

Subscribe To Our Newsletter
Join our mailing list to receive the latest news and updates from our team.