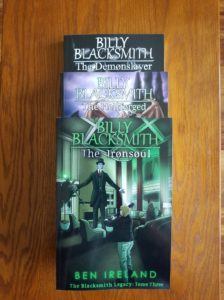 Ironsoul IS coming! In fact, it's almost here. Billy Blacksmith: The Ironsoul will be release Sept. 1st and I'm super excited. Pre-order here!
A few years ago, I had a gentle conversation with a fellow author about a boy with demonblood. This character's name is Billy Blacksmith and his author is Ben Ireland. Many people know this. I have previously blogged about this incredible experience here. It's a unique and creative story of an unlikely hero battling enormous, demonic spiders with a baseball bat, not to mention it is so fun to read, with Ben's witty writing and intense action.
EDITOR'S QUICK RECAP
In BILLY BLACKSMITH: THE DEMONSLAYER, the reader is introduced to Billy – this funny, overweight orphan, who finds he's incredibly skilled at wielding a baseball bat, which comes in handy when gigantic demonic spiders want to drink his blood. As the editor, I struggled when to interfere, coming from an author background. This was my first novel as an editor. I had to let his voice become the star and I had to completely disappear.  It was a learning curve for both of us working together, and even then, sometimes I had to just trust Ben as the author, that things he hadn't explained would resolve. Everything was leading to a much bigger story.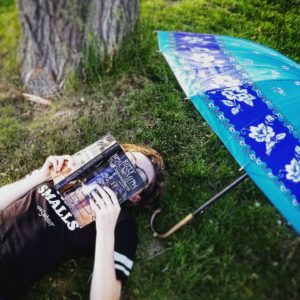 BILLY BLACKSMITH: THE HELLFORGED, the second in the series, was much more fun for me to edit. No more need for introduction, Ben speeds Billy on a quest to find a magical weapon. I liked the adventure of this one. I was used to Ben's writing style and I completely trusted him, which made things easier for me. I could tell he enjoyed writing it, because of how joyful it read. And the reader gets a chance to see more of the Demonic Realm, including a Thunderdome-like fight scene, with giant, demonic pugs and hummers with machine guns attached to the top. How visually entertaining! Not to mention, the connections between his friends deepen – he's forming a team! Pure adventure, and I just loved it.
Billy started out really fun, took me on a true adventure, I got to imagine giant pugs and demonhound puppies… The creativity of it was mind-blowing. I couldn't guess or even imagine what Ben had in store next.
"As humans, we carry scars, everyone has them, everyone needs them."
WHAT I HOPED FOR AND NEVER EXPECTED
I can't believe this manuscript landed in my hands. It came to me on Christmas day, way after presents were opened. It was the winding down of the evening when I turned on my computer and saw the heading "The Ironsoul" blinking at me with a tag saying "Merry Christmas." It was magical. I knew he was close to finishing, but I wasn't expecting it. I read just a little bit, like when you skim the pages of new books, finding out that it was right after Christmas when this novel takes place. It was a winterscape, which I love, with Billy downtown seeing the lights of Salt Lake City, my city. It was lovely and I soaked it in.
QUICK "HOW-I-EDIT"
When I do a first pass, I read the manuscript like a reader would. However, I like to annotate. I annotate any book I really love, because there are details and feelings I want to remember and highlight. I really focus on what I like, what's good, what works, and what I want to remember, my feeling at the time. If it's something that needs work, I might make a quick note, but nothing serious. That's not what I'm focusing on during this pass. Mostly, it's likes.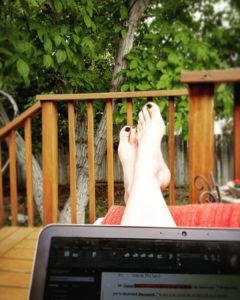 Second pass is the nitty-gritty, where I really dig into "Does this make sense?" "Is this working?" "I think it needs more" etc… and the continuity of the story, now that I know it from start to finish. With Ben, because our writing is so different, I ask a lot of questions and stay out of his writing as much as possible. He was a very fun, unique style that's as identifiable as a fingerprint, so commenting let's me focus on what needs to be addressed without interfering and lets him fill in a lot of the details. It needs to be authentic. This is my cinematographer angle, with a slow pan through the scene to see the right way to tell it. Ben will tell you that I ask for more action A LOT. It's not a bad thing, but he writes in conversations, so painting more of the picture through words is a great way to keep your audience involved.  I'll say, he always surprises me with his originality, and honestly, that's why I ask, because I know it gets him pushing himself to be creative. So many times it surprises me what he comes up with.
Third pass is smoothing, and third pass is loose in translation, since it could be multiple passes over sections. The grammar, the punctuation, and the fixes. Nothing too excited here. We are getting this manuscript "reader ready" and it's not the fun part, polishing never is.
MY FIRST IMPRESSIONS OF IRONSOUL
So, Ironsoul immediately entertained me with charming dialogue and witty situations. Chapter 3 – the first chapter with Billy, kicks the novel into high gear with a pretty intense fight scene. And then Chapter 4 made me blush all sorts of colors. But by Chapter 5, the novel takes another turn, a big one. Chapter 6, I found myself engrossed in words and situations and feelings I hadn't felt in a long time. Feelings?! Ugh! Where did those come from? Feelings of being young and awkward, not pretty, not popular, being picked on and teased, trying so hard to fit in, walking around in a skin that didn't fit me right. Those feelings!
"Freewill unchecked is chaos. Mr. Fingers will prove that to you before the week has ended." Seth, Billy Blacksmith: The Ironsoul
Unlike the adventure of Hellforged, Ironsoul is a mystery. I kept trying to guess things. I'm not really a guesser, I don't like spoilers, so my guesses were more hunches. The clever demon, Mr. Fingers, feeds on emotions and manipulates others to feel soul-collapsing depression and failure. All are susceptible, except those who possess an Ironsoul, or someone so strong in their convictions that they can't be persuaded. When I got to the title chapter, which I think a lot of us look forward to, I was blown away, once again, by the depth the story was taking.
Actual Editor Annotations Throughout My First Pass:
"WHAT? What an incredible idea!"
"I like this. The whole thing. I think your concept of the Ironsoul is a beautiful aspiring trait that will be good for teens, or heck, anyone."
"Why am I feeling this book so much?"
"AH! I love this. This is so relate-able. I mean, hasn't everyone done this?"
"I love that you put this in. This elevates the bond for the reader. And it's so tender. The book presses on the tender emotions we have. The crowd will really like this."
I couldn't believe I was handed this incredible book. Overall, I found the story inspiring, thought-provoking, and downright wonderful. It did not have the action-packed hummer-giant pug chase from Hellforged, or the creepifying gym full of spiders from Demonslayer, but instead of action, it is filled with suspense, curiosity, and a range of emotional checks and balances. Ben's background in horror writing really shows up here, filling in the cracks with spookifying intensity. It was thrilling.
And every Billy book has folklore, and this doesn't disappoint. The depth of the backstory, that basically frames the entire series, is magnifying and I gush every time I get to the folklore, because you are getting not only one story here, but THREE – all the folklore that's laced in with Billy's story, plus you get to see what the princess Patricia and the ex-General of the Spider Horde Krios are up to.
What I found most surprising is the nature of this novel, tackling very deep subjects, like bullying and depression. I've never read anything like it in a fantasy novel. I'm still dumbstruck. It's so powerful.
MY FINAL IMPRESSIONS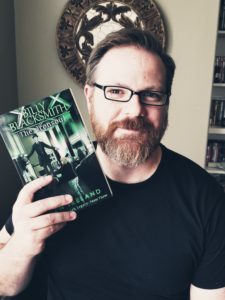 I'm more proud than I can say. This novel was not easy for Ben to write. As authors, sometimes dive deep within ourselves to capture emotion that is true and raw in order to tell the right story. I couldn't say Ben did this personally, not knowing much of his backstory, but the overarching theme carries a heavy understanding to the reader, a personal touch that tells them, "I know what you're feeling. I get it. And you're gonna be okay." As humans, we carry scars, everyone has them, everyone needs them.
This was a difficult edit, but worth all the sweat and tears. I paced myself differently, because there needed to be a nice balance of fun without losing the integral story. I've found that Ben is very good about balancing intensity with witty banter. His writing is fresh, clever, and cinematic.
"Ironsoul is more than an entertaining YA novel. It's about bad influences and bullying, spite and retaliation, loneliness and isolation, unconditional loyalty and friendship, and most of all – choosing to do the right thing, even when you think it's impossible!" Sue, Amazon Reviewer
Ironsoul falls third in line in the Blacksmith Legacy, and with being a continuous story, it may see hard times before it gets to the readers it was intended for. That breaks me up a little, since I love this book so much. I wish you could just dive into it, but there is so much story, one just can't do that. However, it didn't take me long to know Billy was something special and something I wanted to be a part of, and it won't take readers long either. You get hooked on Billy and it's WORTH it! Every word.
Here is a FREE sneak peek of Chapter 5: Clatterball (demon sports are very amusing) on Ben's website: Benirelandbooks.com
Also, if you are an artist or love fan art, check out the FAN ART COMPETITION happening now of FANDOM's Billy page here.
This series has been part of me for the last two years. I will miss editing, but I'm ready to get writing again. This is only Billy's ACT I (first three) of his epic saga. There are so many stories to tell and I want to read them all. #teamgreyson
Click here to join the Billyverse newsletter crew!

Subscribe To Our Newsletter
Join our mailing list to receive the latest news and updates from our team.